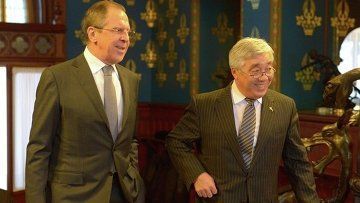 Russia's FM Sergei Lavrov making his Kazakh colleague Erlan Idrissov welcome
Sergei Lavrov, Russian foreign minister, believes that those who widely publicized the information about disputes between Russia and Kazakhstan over Baikonur cosmodrome, just wanted 'to make heavy weather of it', reports RIA Novosti.

"A note was published in the media. I have no idea who has done that. We do exchange notes - it is a normal method of diplomatic communication. I don't know who published this one, who made a leak. I think, these people just wanted to make an elephant from a fly" he said after meeting Erlan Idrissov, his Kazakh colleague in Moscow on Friday.

"Russia is doing everything possible to improve environmental aspects. Proton missiles have already been modernized and for many years we have been additionally agreeing on the number of launches, therefore we do not see any sensation in this case. It's just a working moment."

"Presidents understand the need to settle every similar question. A decision was made to create a special inter-governmental commission for Baikonur. It has now been created and Igor Shuvalov will head it for our part", the minister said.
In turn, to journalists Kazakh FM Erlan Idrissov said there isn't a scandal around Baikonur.
A number of mass media reported Thursday that Russia and Kazakhstan may tear up cooperation in all joint space projects following a restriction on launching Russian rockets from Baikonur.
The note issued by Russian foreign office reads that in the situation developed, Moscow will reconsider its position on continuing bipartite cooperation in joint projects, including the Dnepr program and the joint Baiterek project.
Earlier, Kazakhstan's government had adopted 2013 Baikonur Space Launching and Test Launching Plan submitted by Russia.
The number of Proton-M launches was restricted to 12 in 2013, while Russia had planned to complete 17 this year.
Moscow and Astana have together been using Baikonur since 1999.
In 2004 Russian lease of the space base was set to expire in 2050.

Annual lease of the complex costs Russia $115mln plus almost 5bn rubles for the maintenance.


January 25 2013, 15:14