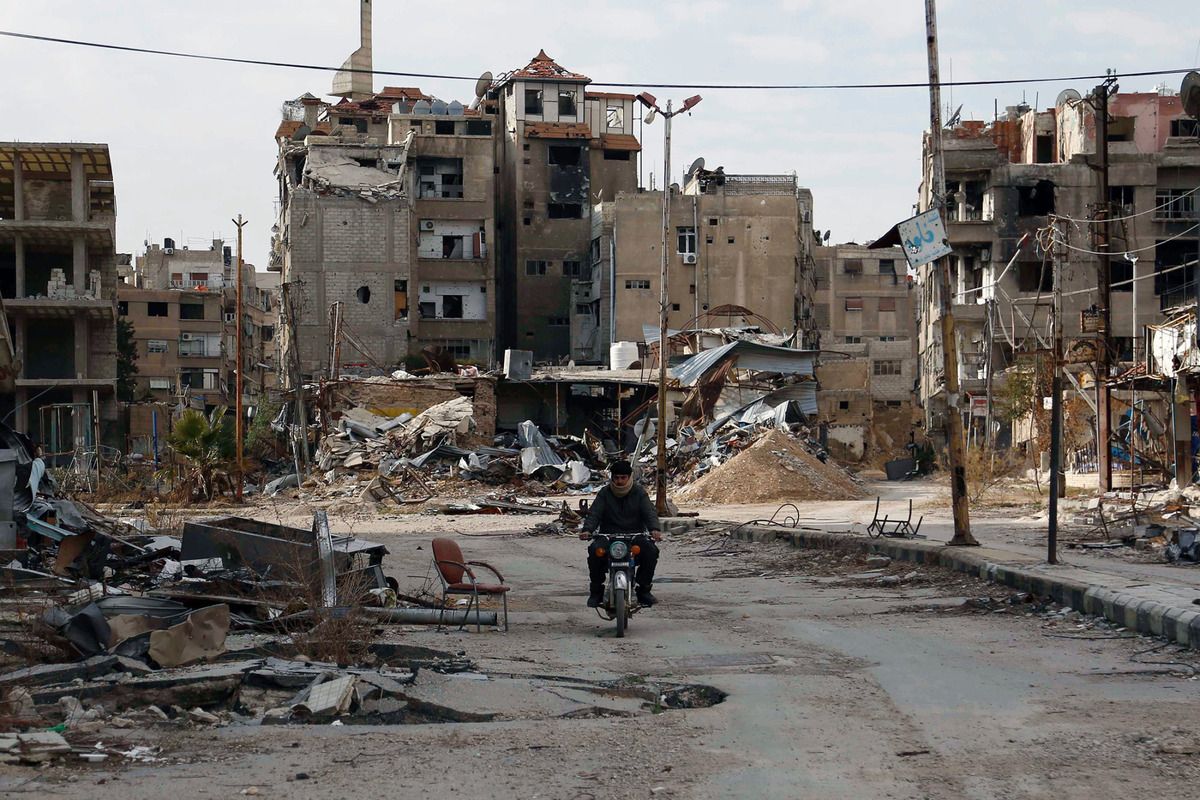 Russia and Saudi Arabia's joint efforts to halt oil's collapse may end up further inflaming the war in Syria.
The agreement the two largest crude producers signed this week to cap output masks smoldering animosities over Syria, where they are backing rival factions in a multi-pronged conflict that's claimed more than a quarter-million lives.
"The irony is that if the Saudi-Russian agreement succeeds in stabilizing or raising oil prices, both will have extra funds to finance their proxy war at a time that Saudi Arabia is threatening to escalate with an intervention of its own," said James Dorsey, a senior fellow in international studies at Nanyang Technological University in Singapore.
Saudi Arabia last week deployed warplanes to Turkey, which downed a Russian jet along the Syrian border in November, and said it's willing to send troops together with its allies if the U.S. leads a ground campaign against Islamic State. Such a move, ruled out so far by the Obama administration, would risk confrontation with President Bashar al-Assad's forces, which are backed by a Russian air campaign that has reversed the tide of the five-year war. The U.S., Saudi Arabia and Turkey are all seeking Assad's ouster.
High Stakes
The stakes are rising as Russian bombers aid Assad's offensive to recapture Aleppo. Losing what was once Syria's most populous city would mark a major setback for the rebels that the Turks and Saudis support. Turkey is also alarmed at the advance along its border of Russian-supplied Syrian Kurds, who are considered terrorists in Ankara and are squeezing supply lines to the rebels. Turkey over the weekend started cross-border shelling of Kurdish positions.
Russia's oil deal with Saudi Arabia reflects common interests only, not any narrowing of differences over Syria, according to President Vladimir Putin's spokesman, Dmitry Peskov.
"These are separate issues," Peskov told reporters Wednesday.
"The tense diplomatic backdrop to the oil deal is puzzling, but it is not the first time Russia is being pragmatic by separating its foreign policy issues from vital economic interests," said Lilit Gevorgyan, senior economist at IHS Global Insight in London.
Most analysts are skeptical that freezing output near record highs will buoy prices even if other major OPEC producers follow Saudi Arabia's lead. Iran, which is returning to world markets after years of sanctions, has said it intends to regain market share regardless of prices.
'Feeling Heat'
The slump in crude to a 12-year low presents a real threat to both Russia and Saudi Arabia, who are being forced to slash spending as energy revenues plummet. Putin is facing Russia's longest recession in two decades, spurred by the double blow of tumbling commodity markets and sanctions over Ukraine.
"This attempt at boosting oil prices may prove to be short term, if not entirely illusory," said Paul Sullivan, a professor of security studies at Georgetown University in Washington. "It is, nevertheless, a signal that both Russia and Saudi Arabia are feeling the heat of the economic issues."
Even so, both countries are refusing to back down from their assertive foreign policy agendas. Putin has shrugged off unprecedented economic challenges at home to maintain control over the two-year conflict in Ukraine, where a shaky cease-fire remains in place.
And in Syria, Putin's cranked up his military campaign since launching airstrikes in September, helping government forces and their Iranian allies reap the biggest territorial gains of the war. The Saudis, meanwhile, have doubled down on their backing of rebels in Syria while battling an armed uprising in neighboring Yemen.
War Fog
Nikolai Kovalyov, a former head of the Federal Security Service, the main successor of the Soviet KGB, said via the RIA Novosti state news service that the entry into Syria of Turkish and Syrian troops would raise the stakes even higher.
"If they cross the border we won't be able to distinguish them from the rebels," Kovalyov said.
The U.S. has condemned Russia's first major military foray outside the former Soviet Union since the Cold War as hampering the fight against Islamic State, but it's also trying to rein in the Saudis and Turks to prevent an escalation.
Last week in Munich, Secretary of State John Kerry and his Russian counterpart Sergei Lavrov helped broker a limited cease-fire in Syria and agreed on joint humanitarian aid deliveries to the country.
Russia, which is accused by Washington and its allies of targeting Assad's less militant opponents rather rather than Islamic State, has said it would continue bombing what it classifies as terrorists groups, regardless of who is backing them.
"Putin is adamant about not looking weak or conceding under pressure," said Masha Lipman, editor of Counterpoint, a journal published by George Washington University. "He's got an 80 percent-plus approval rating and he's in the midst of a very big-time global game in which he's a major player."
Source: bloomberg
February 18 2016, 15:20