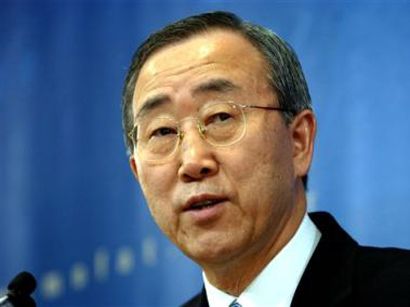 Syrian conflict has no military solution, UN Secretary General Ban Ki-moon said at the 'Supporting Syria and the Region' conference, which kicked off in London Feb. 4, RIA Novosti news agency reported.
There is no military solution; only a political dialogue will save the Syrians, he added.
Ban Ki-moon further expressed concern that the talks on the Common Agricultural Policy (CAP) are undermined by the lack of humanitarian access and by increasing bombings of Syria.
He also urged to put pressure on all the sides of the Syrian conflict in order to bring them back to negotiations with each other.
Azerbaijan's President Ilham Aliyev is taking part in the conference at an invitation of the UN Secretary General Ban Ki-moon, UK Prime Minister David Cameron, German Chancellor Angela Merkel, Norwegian Prime Minister Erna Solberg and Emir of Kuwait Sabah Al-Ahmad Al-Jaber Al-Sabah.
Source: trend.az
February 4 2016, 18:03