Financial Times warns about the future of Berik Otemurat, ex-chief executive of National Investment Corporation (NIC) of National Bank of Kazakhstan, whowas fired for raising the right question for the country and tend to help to find a job abroad offering his CV.
Berik Otemurat, a senior official of NIC, gave an outright interview to the Wall Street Journal and Financial Times about concerns of National Fund's reserves on January 8. Mr. Otemurat said to the reporter of the Wall Street Journal «Accounts of National Fund of Kazakhstan can run out of money within six or seven years.
As reported earlier, "We are eating up the National Fund," Mr. Otemurat said in an interview. "The money we have been lucky to accumulate is the only money we have to capitalize on. I think the government needs to focus on the National Fund's investment management."
In his opinion, The withdrawing cash was promoted also by a decrease in the income of the state, regular receipts from a fund in treasury and secret controls of management of assets of National fund. Otemurat also told to the journalist that is afraid of fast dismissal.
According to the local news agency 365info.kz, Mr. Otemurat actually was fired in a day of giving an interview to the international news agencies. In their opinion, he was thinking about to leave the country for getting an international experience. But the other internet resources wrote that it was planned action. Mr. Otemurat spoke out special for having guiltiness of losing a job.
As reported in Financial Times, Mr Otemurat predicted the fund, which is overseen by the National Bank of Kazakhstan, will be completely drained by 2026 if oil prices remain low and the government continues withdrawing cash.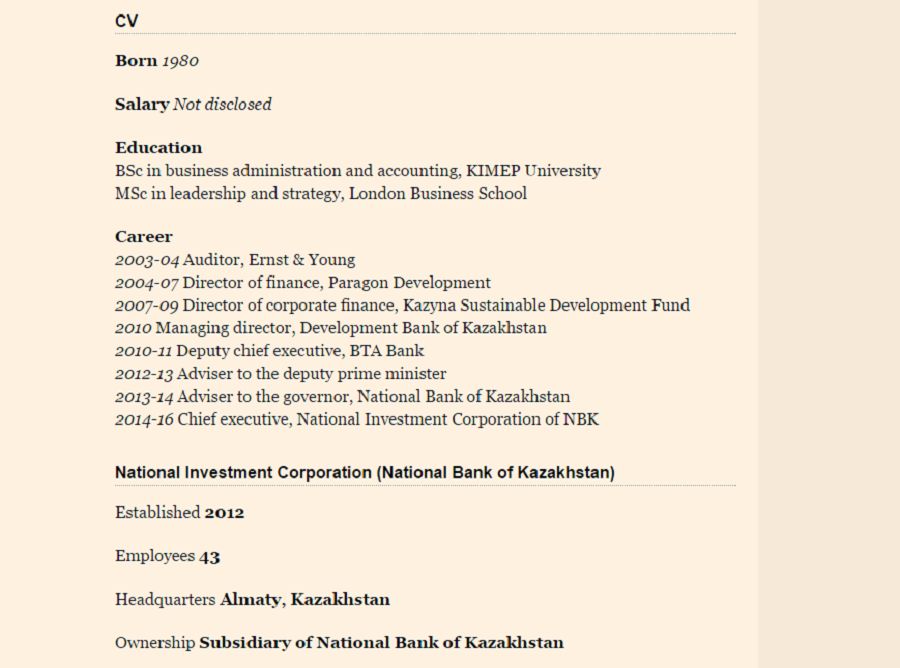 Speaking by phone from Kazakhstan, Mr Otemurat says he has spent the past two years thinking about and learning how best to run the national fund. "I knew what the consequences would be for me [when I spoke out]. Not just in Kazakhstan but generally. People don't do this," Mr Otemurat says of his decision to criticise management of the fund.
According to the article in Financial Times, Mr. Otemurat is worried for his 42 colleagues at the NIC and whether their jobs are secure. "It is always an issue when someone changes, especially in Kazakhstan, at the top level — there tends to be a reshuffle."
Even so, he does not regret speaking out. "It was worth it," Mr Otemurat says. "There is the discussion going on now locally. I am seeing and hearing a lot of feedback on the points I raised and I think I raised the right questions for the country."
Whatever happens to the fund now, Mr Otemurat will not be involved. He is thinking about what to do next. "I don't have specific plans. I will just take some time off and see what I can do next," he says.
If he stays in Kazakhstan, he could set up a fund of funds, offering the country's retail investors exposure to global asset managers. He is also interested in private equity. "Why not set up a local KKR?" he says, referring to the US private equity giant.
Source: 7kun.kz
January 18 2016, 00:57