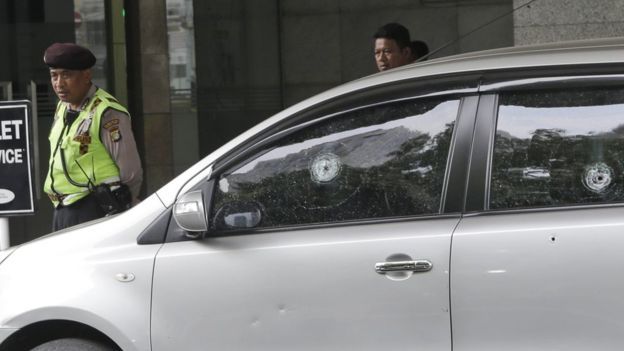 Police in Indonesia have identified four out of five of the Jakarta attackers. Two were previously convicted militants.
Police named one - Afif Sunakim, seen carrying a gun and rucksack during the attacks. He was given a seven-year jail term for attending a militant camp.
All five died in Thursday's attacks, which left two civilians dead and were claimed by Islamic State (IS).
Three arrests were made on Friday but it is unclear if they are connected.
Security forces battled militants for hours in the busy commercial district where the militants struck.
A Canadian and an Indonesian national died, and at least 20 people were injured.
The assault ended when two attackers died in a suicide bombing, police say, with the other three killed in gun battles.
Following recent IS threats, the country, which had been attacked by Islamist militants several times in the past, had been on high alert.
Gen Badrodin Haiti, the national police chief, said Sunakim and one other attacker had both been convicted criminals.
Jakarta's chief of police, Insp Gen Tito Karnavian, said a hunt was under way for terror cells believed to be behind the attack.
Three men were arrested near Jakarta early on Friday, police told local media.
A police spokesman, Anton Charliyan, confirmed on Friday that those who organised the attacks were associated with IS.
Two of the perpetrators, he added, were "known to have committed similar radical activities some time ago".
Earlier, Bahrum Naim, an Indonesian believed to be fighting with IS in Syria, was named as the suspected co-ordinator.
Insp Gen Karnavian said Naim's "vision" was to unite various IS-supporting groups across South East Asia.
IS released a statement saying it had targeted citizens of countries which are part of the international coalition fighting the group, which controls parts of Syria and Iraq.
Source: bbc On photo: Bullet holes could be seen in the window of a car outside the Starbucks cafe that was targeted
January 15 2016, 15:44