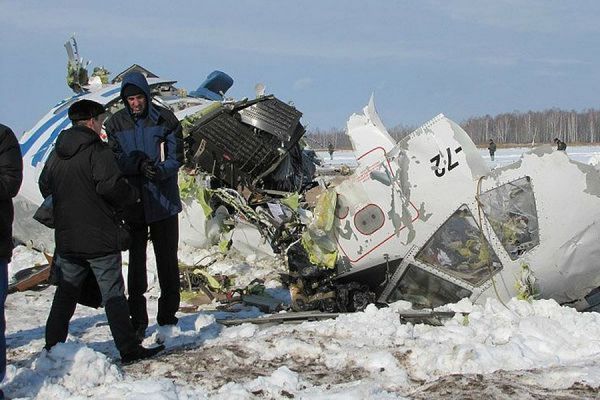 Failures in the equipment and mistakes of the crew were the reason for the crash of AN-72 aircraft in South Kazakhstan, said Nurdaulet Suindikov, official representative of the RoK General Prosecutor's Office announcing preliminary investigation report on the military transport plane crash that took place on December 25, 2012 near the city of Shymkent.
According to him, the investigation is carried out by an inter-departmental investigative group under the leadership of a special prosecutor of General Military Prosecution Office.
In parallel with immediate procedural measures, the investigation team ensured prompt identification of the killed and transfer of their bodies to their homes for burial.

The investigation revealed the following:
On December 25, 2012, at 16.52 the plane took off from Astana airport setting a course to Shymkent. The crew had had medical examination before flight mission.

Physical and chemical analysis of the winter fuel additives has proven they were suitable and free from alien liquids.
Take-off occurred in normal mode and there were no reports in respect of hardware failures. According to recorded conversation between pilots, the plane's autopilot broke out right after take-off.

The crew commander switched to hand control, which does not contradict with AN-72 Flight Manual. After 2 minutes and 29 seconds the commander delegated steering the plane to his co-pilot, what is prohibited if there are passengers on board.

According to flight data recorder, after 2 minutes and 40 seconds radioaltimeter failed and broke down, while ground proximity warning system [TGPWS Mark VIII] was off.

Further steering of the plane was continued by using altimetric pressure instruments. According to preliminary investigation results, barometrical altimeter also showed failures over the course of journey.

So, during 19th minute of flight, altitude indications showed jump-like fluctuations between 696 and -1,375, at 22nd minute from 749 up to 2,672.
In addition, judging by the pilots' conversation, the plane's body got ice-covered during the flight. This was confirmed by visual examination of the accident site - plane wing fragments were ice coated.
At 18.31 the aircraft started to land.

According to the conversation of pilots, meteorological reports and witnesses, AN-72 was going to land in difficult weather conditions and zero visibility.

Besides, the investigation found out that the plane commander failed to synchronise altimeter with the figures provided by a flight operator in Shymkent airport.

As the result, when descending the altimeter could have had distortions of up to 385 meters.
At 18.54 the aircraft crashed into a hill in 21 kilometers from the control point of Shymkent airport.
With wheels out the plane's engines were working till the very moment of collision.
The investigation continues. It will also give legal evaluation of the actions of ground services and command of the garrison the plane was attached to.
January 22 2013, 14:24