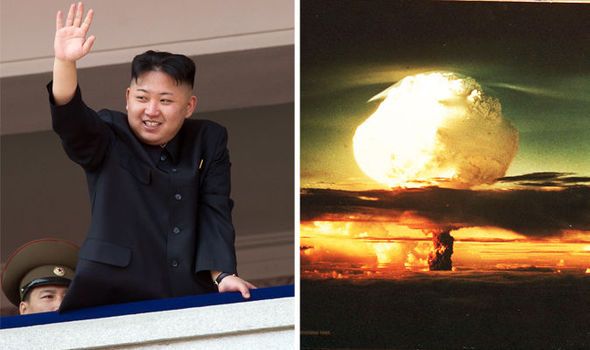 NORTH Korea has threatened to "wipe out the whole of the US all at once" after "successfully" testing out its hydrogen bomb.
A statement from North Korean media revealed scientists "are in high spirits" following the first ever H-bomb test.
Washington and Pyongyang have been driven to the brink of war after the secretive state conducted the test before declaring it is on the verge of war with South Korea just days later.
A spokesperson said: "North Korean scientists are in high spirits to detonate H-bombs of hundreds of kilotons and megatons, capable of wiping out the whole territory of the US all at once."
The rogue state also released video footage last week of a successful submarine-launched ballistic missile test in an attempt to bolster its nuclear weapons arsenal.
The threats come shortly after a statement from Pyongyang claimed its secretive tests marked a "new high stage" and the test was "neither to 'threaten' anyone, nor to 'provoke' someone for a certain purpose".
US experts have raised eyebrows at the latest bravado and remain doubtful of North Korea's nuclear prowess.
Melissa Hanham, a senior research associate with the James Martin Center for Nonproliferation Studies said: "The rocket ejected, began to light, and then failed catastrophically."
"North Korea used heavy video editing to cover over this fact."
According to Hanham, the video splices together multiple angles of a single launch to make it appear as if several missiles are being fired.
John Schilling, an aerospace engineer, said: "The failed launch, combined with testing from a barge, shows that North Korea still has a long way to go to develop this system."
He added: "An initial operational capability of a North Korean ballistic-missile submarine is not expected before 2020."
Experts have questioned the validity of Pyongyang's hydrogen bomb claims, pointing to relatively small seismic waves detected after Wednesday's explosion.
Tensions are at boiling point on the Korean peninsula.
Pyongyang claimed it had detained an American citizen on charges of spying for South Korea.
In response to the alleged nuclear test, the Pentagon flew a B-52 bomber just miles from the North Korean border and on Monday put all US forces stationed in South Korea on high alert.
Source: express.co.uk
January 13 2016, 15:57