On January 21, the court of Zhanaozen issued verdict on the case of Aleksander Bozhenko - one of the witnesses of prosecution in the case of tragic events that happened in the city on December 16, 2011, who was beaten to death by unknowns on October 11, 2012, reports Novosti-Kazakhstan.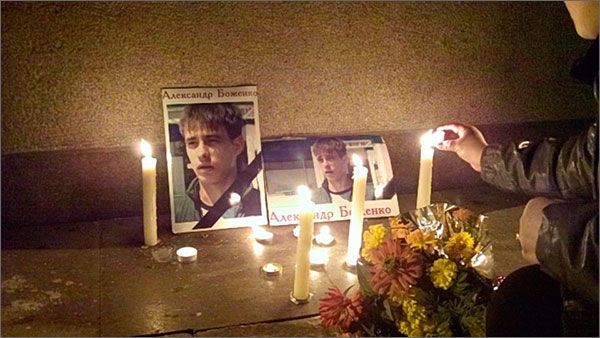 Memorial events for Aleksander Bozhenko were held on his funeral day, October 17, in the cities of Uralsk, Karaganda, Almaty, Warsaw, Berlin and Washington.
One of the accused was sentenced to six years and his sidekick received seven years in a standard regime penal colony.

To recall, on October 11, 2012, Aleksander Bozhenko, 23, an orphanage graduate, died in hospital after severe beating.
According to police, Bozhenko was killed in a drunken brawl. Many of his friends do not believe in this version claiming he was a true Muslim and never drank alcohol.
In June, at the court session reviewing the case of oilmen, as a witness he denied his previous testimony and stated he had given it under tortures during investigation.

To recall, on December 16, 2011, a months-long strike of oilmen in Kazakhstan's western town of Zhanaozen protesting over underpayment and poor work conditions boiled over into a mass disorder.
Police used firearms to disperse the crowd killing 15 and wounding tens, according to official estimates.
On May 21, 2012, the city court of Aktau sentenced 4 workers, who took part in the rallies of solidarity in the railway station of Shetpe blocking the railway as a sign of protest against shootout of unarmed oil industry workers in Zhanaozen, to various terms ranging between 3 and 7 years.
On June 4, 2012, the court of Aktau voiced the verdict on the Zhanaozen riots case: 24 out of 37 were released, pardoned or received suspended sentence under amnesty. 12 were put to prison for 3-7 years.
January 22 2013, 11:30