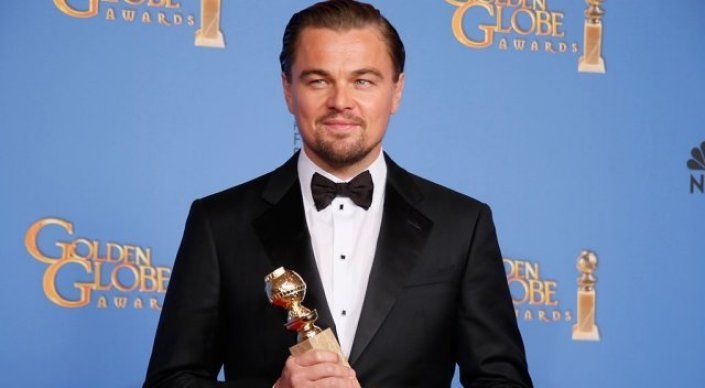 Almost two decades after he was left out of the Oscar race forTitanic, Leonardo DiCaprio is at last poised to dominate the 2016 awards season with his performance in Alejandro GonzAlez Inarritu's dazzling cinematic endurance test, The Revenant. And all he had to do to earn it was – spoiler alert – be mauled by an angry bear, almost drown in a frozen river, gnaw raw bison liver and crawl into the belly of his recently deceased horse for a nap.
DiCaprio, now 41, has made five films with Martin Scorsese and one each with Oscar perennials Quentin Tarantino, Steven Spielberg and Clint Eastwood, all without ever snagging a little gold man for his mantelpiece. Arguably the world's biggest movie star, he is finally the favourite to triumph in the Best Actor (Drama) category at tonight's Golden Globe Awards in Los Angeles, viewed as a major stepping stone on the long path to eventual Oscar glory.
Hugh Glass, DiCaprio's character in The Revenant, is a 19th-century fur trapper left for dead in the frozen wastes of the American West, who claws his way back to civilisation in search of revenge. He has only about two dozen lines of dialogue, many of them barely audible or spoken in Pawnee, and is physically disabled for much of the two-and-a-half-hour running time. "It was the most difficult film I've ever done," the actor said recently – catnip for the people who pick award-winners.
The Golden Globe for Best Actress in a comedy seems likely to go to Amy Schumer for her movie debut, Trainwreck. Should she win, Schumer's speech will surely be unmissable, whether she uses it as a platform to advocate for gun control or as a chance to outdo Globes host Ricky Gervais for hilarity and potential offence. On which subject, Mel Gibson, ostracised after an anti-Semitic rant in 2006, is also to present an award.
Source: independent.co.uk
January 11 2016, 12:18