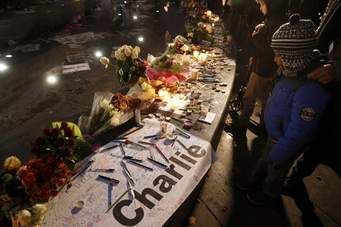 Parisians gathered at the Place de la Republique on the first anniversary of the Charlie Hebdo massacre which led to 17 deaths over three days.
Candles and flowers cover the central monument in theParis city square.
Comedian Christophe Aleveque said: "This freedom gained after so many fights, must not be sacrificed because of a terrorism threat in the name of security: state of emergency, security measures, revoking of citizenship, be watchful."
"There is no reason why it happened and it is important to say it and to continue reading Charlie Hebdo, it's important to go to the Bataclan (concert hall) when it reopens, to continue to go for drinks at the terrace of a bar," said Parisian student Mathilde Flamen.
A giant banner allowed people to leave their mark and write a message alongside names of the victims of the November attacks.
And perhaps the most defiant banner read: "not even afraid."
Source: euronews
January 8 2016, 11:00