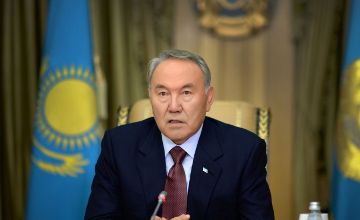 On January 1, 2016, the first stage on implementation of the National Plan "100 specific steps on implementation of five institutional reforms" began in Kazakhstan, President N. Nazarbayev informed in his article "National Plan - Road to Kazakhstan's hope", KAZINFORM reports.
59 laws providing for creation of a new legal framework for development of the country, economy and society entered into force since January 1. It is important for us to assess this unprecedented in our history period when we change our legislation so immensely. Moreover, the changes we make open the way for reaching our Kazakhstan's dream - to become one of the top thirty world countries, leaders of the 21st century.
"Each generation has its own dreams that reflect their aspiration for personal prosperity and wellbeing of their families. They always include love for the homeland, thoughts of happiness for the nation and the motherland. Many generations of our ancestors had a dream of the independence for Kazakhstan. Now, this dream about their free and independent homeland has come true," the Head of State noted.
N. Nazarbayev is confident that independence has become the new highest value for us Kazakhstanis and our multiethnic society.
"We've also achieved what we could only dream about 25 years ago. Now, the sovereignty of Kazakhstan rests on the firm foundation of the Constitution and laws, professional work of the Government of the country that serves for the good of the people. It is all done for making our sovereignty stronger by means of the growth of the economy and people's wellbeing. We need it for protecting our independence by means of our internationally respected image and effective system of the national security," N. Nazarbayev stressed.
He also emphasized that we now learn how to be good owners of the fruitful land and its riches, master new technologies and launch new productions and sectors of the economy.
"The most important thing is that we learnt how dream a new way, set and reach new tasks on development of the country and society despite the difficulties of the global world which Kazakhstan has become a part of now," he added.
Source/picture: KAZINFORM
January 6 2016, 10:05