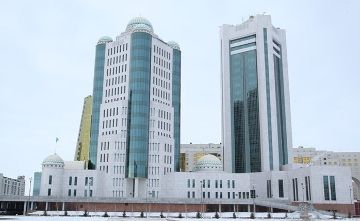 The Parliament contributed greatly to the transformation of our state, the address of President N. Nazarbayev to Parliament deputies and employees of both Houses reads.

Senate Speaker Kassym-Jomart Tokayev read the address of the President at the joint sitting of the Parliament Houses.
"In 2015, Kazakhstan has been making good progress in many spheres. The presidential elections took place in 2015, and the result demonstrated the unity of the people of the country and correctness of the course the country is headed. The year was all about strengthening of the history, statehood and national unity. Moreover, we marked the 70th anniversary of the Victory in the Great Patriotic War and the 20th anniversary of the Constitution. We also celebrated the 550th anniversary of the establishment of the Kazakh Khanate and the 20th anniversary of the People's Assembly of Kazakhstan," K. Tokayev read.
Further on the President noted that the country had success in the industrial development of the country in 2015. The government continued fulfillment of its social obligations, and the people of Kazakhstan are now confident about the future. Besides, the integration within the EEU is going well.
N. Nazarbayev stressed that despite unfavourable things that took place in the global markets Kazakhstan managed to preserve social and economic stability. It was all possible thanks to active legislative work in the country.
"In this regard I would like to express my gratitude to all deputies who contributed to this work, employees of the Senate and Majilis for good work and a great contribution to the transformation of our state. I congratulate you on the upcoming New Year holiday and wish you strong health and future success in development of Kazakhstan and prosperity," the President wrote.
Source:inform.kz
December 29 2015, 17:07