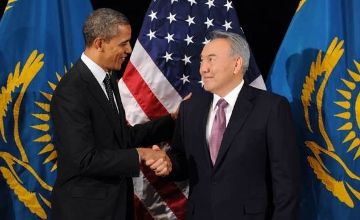 President of the United States Barack Obama has invited the President of Kazakhstan Nursultan Nazarbayev to attend Nuclear Security Summit which is to be held in 2016 in Washington, said Erlan Idrissov, Foreign Minister of Kazakhstan, at today's press conference in Central Communications Service.
Mr. Idrissov stressed that Nuclear Security Summit will take place in late March in Washington. Barack Obama has already invited Nursultan Nazarbayev to partake in the summit.

In addition, April 2016 Turkey will hold Summit of the Organization of Islamic Cooperation (OIC).

"We are members of the organization and we plan to take part in the summit which will discuss ensuing long-term stability in the Middle East," he added.

Erlan Idrissov stressed that the country intends to attend a number of activities within the framework of the Shanghai Cooperation Organization, Eurasian Economic Union, Collective Security Treaty Organization, and Commonwealth of Independent States.

In addition, Idrissov recalled that the Cooperation Council of Turkic-speaking states will be held in Kyrgyzstan in September next year. Next year China will carry out G20 Summit.
Source: inform.kz
December 23 2015, 15:02