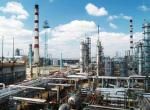 The Shymkent oil refinery put into operation a new production facility – a plant for production of sulfur with an annual capacity of 4,000 tons, as reported by the press service of the company. The process of launching the plant included production of the first experimental batch of liquid sulfur. The project was implemented as part of the program for reconstruction and modernization of the Shymkent refinery.
The act of acceptance into operation was signed by Deputy Mayor of Shymkent Narymbetov Bahadir (who is also the chairman of the state acceptance committee) and Kang Tzu, the director of China Petroleum Engineering's projects in Kazakhstan and deputy chairman of the state acceptance committee.
In the process of commissioning of the new plant, all environmental requirements set in the framework of the environmental program were complied with, which shuts out emissions into the atmosphere and soil.
Commissioning of the plant allowed to create 27 new jobs.
Sulfur is a popular product that has a wide range of applications. It is necessary for production of nitric, hydrochloric, phosphoric, ethane and other acids, phosphate and nitrogen fertilizers, paper, plastics, textiles, building materials, detergents, paints and varnishes. Sulfur is also used in purification of oil, petroleum and coke products from contaminants, for cleaning of metal surfaces prior to coating. Furthermore, a solution of sulfuric acid is used in acid batteries as electrolyte.
Today, Kazakhstan has three oil refineries operated by KazMunaiGas Processing and Marketing. The company's stake in the Shymkent oil refinery is 49.7 percent.
Source: eastime.info
December 23 2015, 11:17