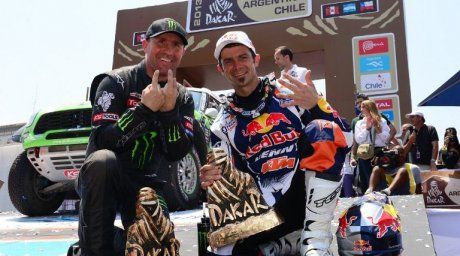 Triumphants of Dakar-2013, Stephane Peterhansel (L) and Cyril Despres
The world's most prestigious race -- Dakar Rally -- that took place in South America is over.
Unfortunately, Kazakhstan's Astana team wasn't successful. According to vesti.kz Baurzhan Issabayev and Dmitri Yugai finished 66th on Mebar 440 offroad vehicle.

This is not the only Kazakh crew to participate in the event. Previously two other offroads [GForce of Andrei Cherednikov and Horn Albert and M440 of Aidyn Rakhimbayev and Gabdulla Ashimov] and a Kamaz truck directed by Artur Ardavichus one-by-one fell out of the race.
It's worth mentioning that Ardavichus on his truck took 3rd place at Dakar-2012.
The winner of Dakar-2013 in offroad vehicles category is the legendary French racer Stéphane Peterhansel. His fellow country man Cyril Despres scored his fifth victory among motorcyclists. Marcos Patronelli of Argentina won in quad bikes. Russians were the strongest in truck race on the famous KAMaz.
Dakar-2013 started on January 5 in Lima and finished on January 20 in Santiago. Racers covered 8,500km across Peru, Argentina and Chile.



January 21 2013, 10:39