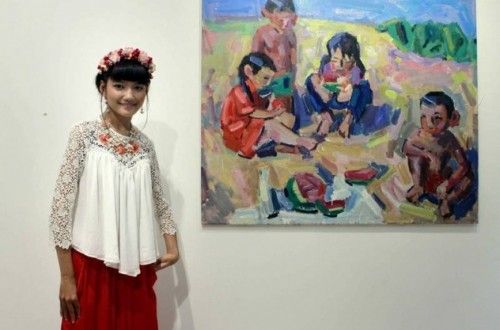 Kazakh artist Tolkyn Sakbayeva, born 25 years ago with cerebral palsy and with little hope of being able to speak or use a pencil, has now established herself with her exposition "Kaleidoscope" as a outstanding painter for the force and color of her work, which is expressive, lively and full of light.
The exposition at Barcelona's Espacio Espronceda is her second in this city, where she has lived for a little over two years with her sister Mika, and for the first time, she told EFE, she is showing large-format paintings almost three meters (10 feet) wide.
Larger format works - abstract and using broad brushstrokes, which has been a challenge for her because of her mobility problems - welcome visitors to the exhibit where the works on display are almost a review of her life.
From the works, one can see that she likes children, that she is a very family-oriented person and enjoys music, and she captures this on the canvas, saying that she is inspired and gets ideas when she goes out on the street or to local parks.
The display features 30 or so works, among which are portraits, still lifes and many works depicting nature, and it wraps up with a small space where the work she calls "Amor" (Love) hangs.
Tolkyn came to Barcelona with the aim of studying fine arts, but she says that now she is focused on her work and on the Espronceda Art and Culture Center, an innovative space for contemporary art that is both a gallery and a space where one can be creative.
She says that now she has other projects such as "Artolerance," for artists who want to develop their full potential, which she is heading up at Esponceda, and in March 2017 she will launch the "Arcadia School" for children with artistic curiosity that she wants to finance with what she obtains for selling her works.
In addition to welcoming resident and permanent artists, Espronceda provides a platform for the dialogue of contemporary art within an international context and also has a program for resident artists.
The paintings in this latest exposition are being sold for between 400 euros ($432) and 7,000 euros ($7,574), and there is even one priced at 10,000 euros ($10,820) for collectors of contemporary art.
Even before Friday's official inauguration of "Kaleidoscope," four of the works have been sold.
Besides painting, Tolkyn loves to read and study about Spain and Barcelona, a city that she says enchants her.
The Kazakh painter has been demonstrating her passion for art since she was small, but she could not hold a pencil until she was 4, and then it took her several months to be able to draw simple lines because her hands would not obey her.
With great force of will and with a deep love for art, Tolkyn Sakbayeva has overcome many of the physical limitations of her illness to fulfill her dream of being a painter with a promising future.
Source: foxnews.com
December 18 2015, 09:55