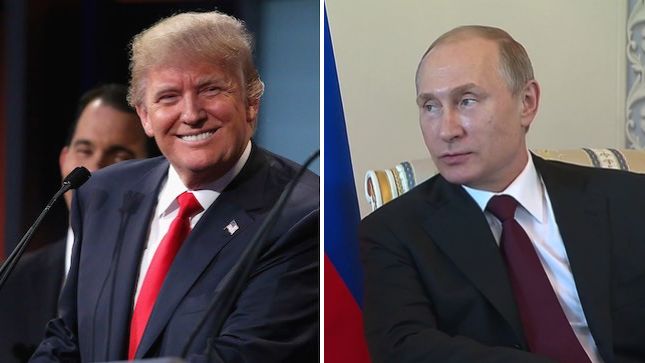 Republican presidential hopeful Donald Trump was praised on Thursday by none other than Russian President Vladimir Putin, who described the American billionaire as "talented" and "outstanding", AFP reported.
"He is a very outstanding man, unquestionably talented," Putin was quoted as having told journalists after his annual press conference in Moscow.
"It's not up to us to judge his virtue, that is up to U.S. voters, but he is the absolute leader of the presidential race," Putin declared.
Asked about the prospect of a new American president during the three-hour news conference, Putin said "we first have to understand who it is going to be."
"Whoever it is, we are ready and want to develop our relations with the United States," he said, adding that unlike the United States, which "always tries to tell us... who to elect and who not to elect," Russia doesn't do any such thing.
"That would be dangerous," Putin added, according to AFP. "They say the prosecutor there threatens to put you in jail if a foreign monitor approaches the voting queue closer than five meters away."
Putin's view of Trump is not shared by everyone, however, as the Republican frontrunner recently caused an uproar both at home and abroad when he called for a ban on Muslims entering the country in the wake of the massacre in San Bernardino.
The comments were widely condemned, with White House press secretary Josh Earnest saying the proposal was "disqualifying", and Secretary of State John Kerry claiming this week the comments "endanger national security".
British Prime Minister David Cameron on Wednesday called Trump's comments "divisive, stupid and wrong".
Putin said that Trump's comments to his domestic audience while on the campaign trail were not Russia's concern, but added that he likes the Republican hopeful's statements on Russia.
"On domestic politics, his manner of speaking, what he employs to raise his popularity" -- that is none of Russia's business, Putin said, according to AFP. "It's not our concern to evaluate his work."
"He says that he wants a different level of relations, tighter and deeper relations with Russia, how can we not welcome that? Of course we welcome it," he added.
Trump was asked during one of the debates in September what he would do to get Russia's military presence out of Syria, and answered that he would first get Putin's respect.
"I will get along -- I think -- with Putin, and I will get along with others, and we will have a much more stable -- stable world," Trump said in September. "I would talk to him. I would get along with him."
But Trump also said in October he would like to "sit back" and watch as Russia continues air strikes in Syria, suggesting it could be a "trap" that could bog down Moscow.
Source:inn.com
December 18 2015, 09:46