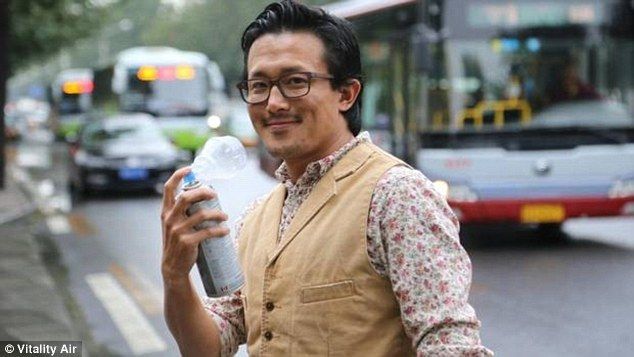 As Calgarians suffer under smoke-filled skies, an Edmonton entrepreneur is hoping to cash in on Alberta's typically clean mountain air by compressing it in bottles and selling it online.
"It's a real thing," assured Moses Lam, CEO of Vitality Air. "We're doing, on average, about 300 bottles a month. We just started."
The company claims each large bottle of air, complete with a face mask to help breathe it in, contains at least 150 one-second inhalations.
A large bottle of air from Banff will run you $15, plus shipping, while the same amount of air from Lake Louise is priced at $19 in the online store.
The large bottles are also available at the O.K. Gift Shop in Banff, priced at $22.49, according to a store clerk there who answered the phone Tuesday.
Lam set up the company in November 2014 but said he's only been actively selling air from Banff and Lake Louise for the past few months.
"Most of this stuff is going international," he said. "Our main target markets are China, India, and Dubai, because the pollution is so bad there."
Lam said he got the idea for the company after an attempt at online humour actually netted him a nice profit.
"It's really funny," he said. "I started by just selling a bag of air on eBay. One bag sold for 99 cents. And then another bag of air sold for like $168 U.S."
"This was all before the Kanye West concert air stuff," Lam stressed, referring to the online frenzy that resulted earlier this year after a zip-sealed bag of air ostensibly captured during a show on the hip-hop artist's Yeezus tour drew bids as high as $60,100 before eBay cancelled the auction.
As for the Alberta mountain air, Lam guarantees its quality.
"We bottled it in Banff before all the forest fires," he said.
Source: metronews.ca On photo: "Vitality Air" sales have doubled in China in the last 2 weeks, where industrail smog is affecting people's everyday life.
December 15 2015, 16:35