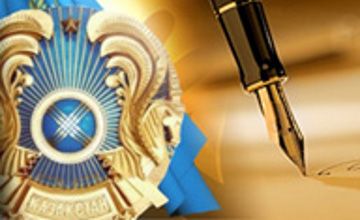 On the eve of Independence Day of the Republic of Kazakhstan by the Decree of the President of a large group of people for significant contribution to socio-economic and cultural development of the country, for strengthening friendship and cooperation between peoples, social activities awarded state awards, the press service of Akorda reported.
Among them are prominent figures of culture, science, education, health care, representatives of the production sector, business, law enforcement officers, military personnel, athletes, veterans of war and labor.
For outstanding achievements in the economic development of the Republic of Kazakhstan and the title of industrial activity of "Kazakhstan Yenbek Eri" was awarded the mechanics of a cut "East" JSC "Eurasian Energy Corporation" Pavlodar region Amrenova RB, General Director of LLP "Kazphosphate" Taraz Iskandirovu MZ , director of "Altynsarino" Kostanai region Knyazev BP
Order of "Otan" awarded director of "Kamyshinskoe-2" East Kazakhstan region Akulov VI, writer Ashimov AU and composer Hasangaliev EW, the Order of "Kazakstan Respublikasynyң Tұңғysh Prezidentі - Elbasy Nұrsұltan Nazarbayev," - Head of the Presidential Administration Nigmatulin NZ and Akim of Kyzylorda oblast Kusherbayev KE, the order "Barys" I degree - Senate deputy Altynbaev MK, "Barys" second degree - Majilis deputy Peruashev AT, Rector of the RSE "Eurasian National University named after L. Gumilyov "Sydykov EB,« Barys »III degree - Professor RSU" Kazakh National University of Arts "Abilov Sh.K. Professor RSU" Aktobe Regional State University K.Zhubanova "Aitaly AA, director of" Janajol "Kyzylorda oblast K. Abishev, Chairman of the Board of Directors of JSC« Central-Asian Electric Power Corporation "Klebanov A.Ya., chairman of the National Association of Trade Unions' Federation of Trade Unions of the Republic of Kazakhstan" Kusainov AK, director of "Agricultural company" Prirechnoe "East Kazakhstan field Tumabaev M. and others.
Source: bnews.kz
December 15 2015, 12:25