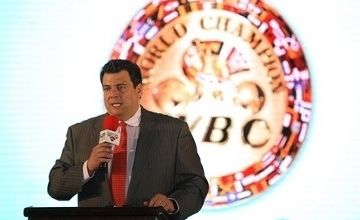 The WBC ruled Monday that Canelo Alvarez and Gennady Golovkin will each be allowed to make a defense of their respective middleweight crowns before going head-to-head, provided they do so within a set timeframe.
Both fighters will be required to negotiate immediately after their next fight or beginning on a window that starts May 31, 2016. The WBC released a statement indicating its decision was to ensure Canelo vs. GGG had the most hype possible.

"Canelo vs. GGG is one of the most important events in the sport of boxing and their promotional companies and partners have been communicating openly and in good faith," the statement read. "The ultimate goal of all involved is to make certain that the best conditions are secured for their fighters and the boxing world, and to preserve their full commitment to abide by, and respect, the governing WBC Rules & Regulations."

The initial deadline for the two to fight was Monday. Had they not come to an agreement, Alvarez would have been stripped of the middleweight title he won from Miguel Cotto on Nov. 21. Golovkin currently holds the interim belt, which was awarded to him initially in October 2014.
The winner of their upcoming bout will be the undisputed WBC middleweight champion.

Extending the negotiations window is a big move for both fighters, as there are a number of terms that need hashing out. The purse split may be the most intense portion of the negotiations, as Alvarez is far and away the bigger national draw. It's a given that Alvarez will receive a higher guarantee and overall gross, but finding an amenable middle ground on the percentage cut will be harder.

Alvarez has also made it clear he will not add weight to make the fight happen. Canelo has fought his last four bouts since losing to Floyd Mayweather Jr. at a 155-pound catchweight. GGG typically fights at the standard 160 pounds.

"I'm not afraid of any fighter," Alvarez said, per Lance Pugmire of the Los Angeles Times. "GGG is a great fighter ... If we do a fight, it's going to be at my weight class."

If the fight does happen, it'll be among the biggest on the 2016 calendar. Alvarez, 25, is seen as boxing's next big superstar. His bout with Cotto garnered 900,000 pay-per-view buys, numbers typically reserved for the Mayweathers of the world, and he has a robust Mexican fanbase. Golovkin, 33, is undefeated at 34-0 but has spent most of his career beating up on lesser opponents.

With the deadline extended, GGG might finally get a chance to show his worth on the international stage.
Source:inform.kz
December 15 2015, 10:00