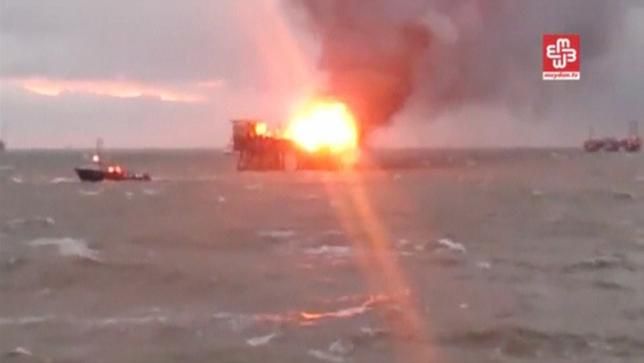 Azerbaijan was on Sunday searching for 29 missing oil workers after a storm caused their offshore oil rig to catch fire, as the president ordered a day of mourning.
A fire broke out on the rig in the Caspian following a storm on Friday "leading to many deaths," said a statement on the official website of President Ilham Aliyev.
"I join the relatives in their grief and designate December 6 as a day of mourning in Azerbaijan," it quoted him as saying. Flags were ordered to fly at half mast and entertainment programs cancelled, his office said.
Aliyev's statement was the closest to an official confirmation that 30 workers have likely perished at sea when one lifeboat where the crew was taking refuge fell into the water.
Rescue workers had lifted a total of 33 people from the rig, the open water, and from a lifeboat that was suspended 10 metres (35 feet) above the stormy waters.
But a second lifeboat fell into the water and has not been recovered. The workers were wearing life vests, according to the company, and some of them were recovered from the sea at a considerable distance from the rig.
So far, the body of one worker has been found.
SOCAR state energy firm listed the 62 names of its employees working on the rig, who were either rescued or missing.
"We are looking for 29 people. Whether they are alive or dead we don't know. Before we find them we cannot pronounce them dead," company vice-president Khoshbakht Yusifzade told a press briefing on Sunday.
Eleven helicopters were still searching for the lifeboat but it may have already drifted out of Azerbaijan's waters.
It was last seen from the air 50 kilometres (30 miles) from the rig, SOCAR said, adding that Azerbaijan's government has asked other Caspian nations Kazakhstan, Iran, Russia, and Turkmenistan to aid in recovering the bodies if necessary.
- Safety inquiry opened -
The storm had on Friday damaged a gas line on platform number 10 in the deepwater Guneshli section of the Azeri-Chirag-Guneshli offshore oil field, causing a fire, SOCAR said.
The fire was still burning on Sunday, but SOCAR said it would be extinguished by the evening.
Prosecutors on Saturday opened an probe into possible "breaches of fire safety regulations".
The Guneshli deposits were discovered in 1981 in the south Caspian Sea, some 90 kilometres (55 miles) east of the Azeri capital Baku.
Platform number 10 is operated solely by SOCAR.
A mainly Muslim country of nine million wedged between Russia and Iran, Azerbaijan is a key partner in projects to deliver Caspian Sea energy reserves to the West through pipelines to Turkey, bypassing Russia.
There have been a number of fatal incidents on offshore oil rigs in recent years.
In 2011, a drilling platform sank in a storm off Russia's far eastern coast, killing 53 people.
In 2010, an explosion on the BP-leased Deepwater Horizon rig killed 11 workers and sent millions of barrels of oil spewing into the Gulf of Mexico.
The deadliest incident in recent decades occurred in the North Sea in 1988, when the Piper Alpha oil platform operated by the US-based Occidental Petroleum exploded, killing 167 people.
Source: AFP
December 7 2015, 15:29