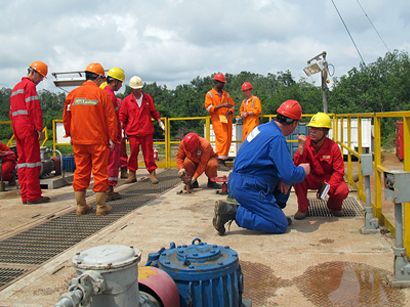 Kazakhstan invites Azerbaijani companies to participate in the project "Eurasia," which envisages a comprehensive geological exploration in the Caspian basin. The news was announced by Kazakhstan's Minister of Energy Vladimir Shkolnik in Baku on December 4. In his words, Azerbaijan has a developed infrastructure, which can be used to increase supplies of Kazakh hydrocarbons to the world markets.
"We invite Azerbaijan to participate in the project "Eurasia," which provides for a complex exploration of hydrocarbons subsoil of the Caspian Basin. The project is international, and a number of large companies will participate. Azerbaijan is also able to take part," Shkolnik said at the briefing on the results of the recent Azerbaijani-Kazakh intergovernmental meeting of the committee on economic cooperation, which had taken place in the capital of Azerbaijan.
The project "Eurasia" envisages exploration of the Caspian Trench horizons in the territory of Russia and Kazakhstan. According to expert estimates, the resource potential of the Caspian region, especially of the Caspian Basin, is not less than 40 billion tons of equivalent fuel. In this area, they project the presence of about 20 large hydrocarbon deposits with reserves of over 300 million tons.
The project "Eurasia" will be implemented in three stages. The first involves collection and subsequent processing of data of the past years. The second phase provides for carrying out a large-scale research. And the third phase presupposes drilling to a depth of about 14-15 km of the new well Caspian-1.
The cost of all three phases of the project "Eurasia" is tentatively estimated at approximately $500 million.
Source: easttime.info
December 7 2015, 14:40