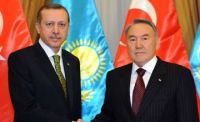 Turkish President Tayyip Rejep Erdogan during the phone talk with Kazakh President Nursultan Nazarbayev expressed willingness to meet with President of Russia Vladimir Putin at any time, the press service of the President of Kazakhstan said.
"Erdogan confirmed his readiness to meet with Russian President Vladimir Putin in the near future," said the press service.
The parties exchanged views on the crisis in Syria and the incident with the Russian Su-24 fighter jet.
The President of Kazakhstan expressed his regret about the incident, as well as concern over the deterioration of Russian-Turkish relations.
"The President stressed that these ties were built over the years and today the parties need to take responsibility for saving of relations," said the press service.
Kazakh President recommended to clarify the incident and find a way out of this situation. Nazarbayev expressed hope that the parties will use all possible measures for de-escalation of the situation.
Source: akipress.com
November 30 2015, 09:23