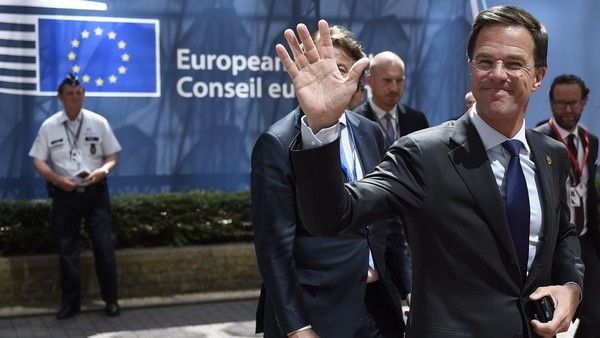 The EU risks suffering the same fate as the Roman empire if it does not regain control of its borders and stop the "massive influx" of refugees from the Middle East and central Asia, the Dutch prime minister has warned.

Mark Rutte, whose government assumes the EU's rotating presidency in January, said southern EU countries had yet to implement policies agreed to stem the flow, which has exceeded 850,000 arriving by sea so far this year, according to the International Organisation for Migration.
Mr Rutte said Greece, where more than 700,000 have landed this year, might have to increase its "reception capacity" to at least 100,000. Athens has so far committed to about half that, insisting that it does not want to become a giant refugee camp.
Hundreds of thousands of refugees have travelled on from Greece and Italy to other EU countries — principally to Germany and Sweden — creating huge administrative and political strains across the union.
"As we all know from the Roman empire, big empires go down if the borders are not well-protected," said Mr Rutte in an interview with a group of international newspapers. "So we really have an imperative that it is handled."
His comments echoed a warning by Jean-Claude Juncker, president of the European Commission, that a breakdown of the EU's 26-country open-border system, known as Schengen, would put the whole union in peril.
"We have to safeguard the spirit behind Schengen," Mr Juncker told the European Parliament on Wednesday. "Yes, the Schengen system is partly comatose. But . . . a single currency does not exist if Schengen fails. It is one of the pillars of the construction of Europe."
Mr Rutte said the EU needed to act quickly to stem the migrant flow, adding that he was optimistic that Sunday's summit in Brussels between President Recep Tayyip Erdogan of Turkey and EU leaders would help ease conditions by providing €3bn to improve refugee camps in Turkey and disrupting the "business model" of human smugglers channelling migrants in boats to Greece.
"It's not the case that you will close a deal and then, on Monday, everything is delivered," he said. "It's not like you buy a house. But I think, on both sides, we need confidence building."
Mr Rutte was careful not to label the migrant crisis a security threat, in the wake of the November 13 terrorist attacks in Paris.
The issue of whether the influx of migrants poses a security threat has quickly gone from the extreme fringes of the EU's political debate to the mainstream, with elected leaders in Hungary, Poland and Germany all voicing concerns in the days following the Paris attacks.
French investigators have said at least two of the attackers entered Europe through migrant reception facilities in Greece.
Mr Rutte acknowledged the threat posed by "foreign fighters" — European nationals who have joined militants in Iraq and Syria — had risen, saying those returning from the war zone were now more lethal because they "really have been taught the most evil techniques" by extremist groups. Most of the Paris attackers are believed to have been French or Belgian nationals.
He chided far-right populist parties linking migration and terrorism, saying they were attempting to make "one big soup of all this". He insisted governments were able to weed out potential threats during the screening of asylum seekers in their initial processing.
"There's no reason to think all the refugees are now potential terrorists," said Mr Rutte. "Yes, there is a risk that a terrorist might be among the refugees, and we have to do everything we can to make sure we very clearly single out that particular person." The great majority of people coming to Europe were refugees.
He also refused to criticise Belgium, which has come under intense scrutiny from French authorities amid mounting evidence that Brussels served as the planning centre for the Paris attacks. Mr Rutte said Charles Michel, the Belgian prime minister, had responded responsibly to the threat, adding that any EU country could face a similar risk.
"Yes, we should be very vigilant, but at the same time we should continue our way of life," he said. "We have more people than they do. We have the older civilisation. We should not let ourselves be scared."
Source: ft.com
November 27 2015, 15:16