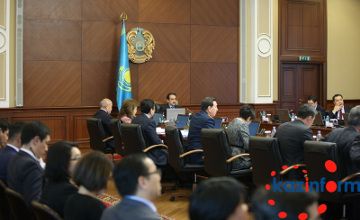 Oil-rich Kazakhstan is starting to feel the effects of falling oil prices.

Kazakhstan's Energy Minister Vladimir Shkolnik announced Monday that oil and gas salaries will be reduced by 31% in the immediate future.

"In 2015 gross income of Kazakhstani subsoil users has fallen sharply [by 52%], compared to 2014. Plus, oil has recently dropped to $50 per barrel. It is not hard to predict that oil salaries will decline by 30-31%," he said talking about the current situation in the oil & gas sector at the session of the Government.

Minister Shkolnik also admitted that up to 40,000 oil workers are likely to face layoffs for the same reasons.

"If the [oil] prices remain at the current level, up to 40,000 oil workers in Kazakhstan can lose their jobs," he added.
Shkolnik also does not exclude that modernization of the Pavlodar and Shymkent oil refineries might be postponed due to financing problems. He said it today at the Government's telephone conference.
"Three refineries are under modernization now. Atyrau Oil Refinery is expected to be commissioned in December 2016," the Minister told.
"The issue of financing of the second stage of Pavlodar refinery modernization has not been solved yet. Its cost is 400 mln tenge. As for Shymkent refinery, we hope to solve it during our trip to China. Probably, the commissioning of the plant will be postponed from 2016 to 2017," he added.
Source: inform.kz
November 23 2015, 15:58