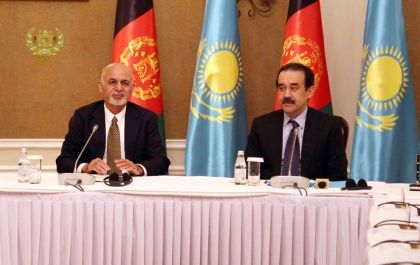 President Mohammad Ashraf Ghani during his visit to Kazakhstan met Prime Minister Karim Massimov yesterday, BNA reported.

During the meeting which was also attended by Afghan and Kazakh businessmen and traders, president Ghani suggested that opening a branch of an Afghanistan Bank in Kazakhstan could facilitate transaction between businessmen of the two countries.
President Ghani in the meeting also suggested reduction in the price of transit of commercial goods. Both sides also exchanged views on the modalities of how to remove transport problems and exporting wheat to Afghanistan and president Ghani said that achieving self-sufficiency in agriculture products particularly wheat is one of the priorities of the government.
Prime Minister of Kazakhstan promised that his government would cooperate in issuing multiple visas to Afghan traders to visit Kazakhstan more than one time by the same visa. Both the countries also inked four memorandum of understanding in the fields of diplomacy, civil services, standards and agricultural products in the presence of president Ghani and Premier Karim Massimov.
Earlier, President Ghani also separately met Kazakhstan-based Afghan businessmen wherein the traders apprised the president about their problems. The President also exchanged views with the businessmen on transit, tariff, transit route and healthy competition.
Source: bakhtarnews.com
November 23 2015, 08:00