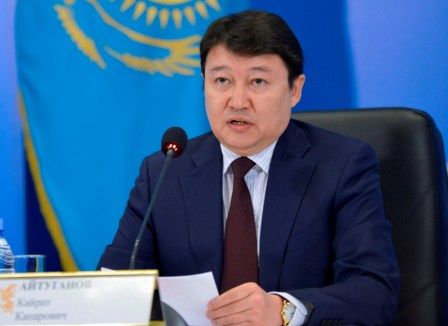 Within the implementation of the National Plan "100 concrete steps" proposed by the Head of State, the Federation of Trade Unions of the Republic of Kazakhstan jointly with the Ministry of Healthcare and Social Development developed a new Labour Code. The Deputy Chairman of the Federation of Trade Unions Kairat Aituganov informed about the main advantages and innovations of the new document during the press conference in Central Communications Service under the President of Kazakhstan.
"Our organization established a special committee, which included all trade union leaders. As a result, there were prepared 117 proposals for amendments to the draft Code. Extensive discussion of the document enabled to work out many problematic issues in labor relations and to achieve the introduction of a number of significant changes," said the speaker.
Firstly, the new Labour Code significantly expands the scope of trade union organizations in the sphere of social control - they are endowed with new rights and powers.
Secondly, the key issue of employment relationships - wage. Trade unions have defended the provision of the share of the basic wage in the amount of not less than 75% of payment excluding non-recurring incentive payments.
Thirdly, the new Labour Code introduced the concept of "work council". It is important that decisions of this body are mandatory for employers and employees. Thus, this is a new tool for improving working conditions.
Fourthly, the relationship between an employer and its employees will increasingly be based on collective agreements. Therefore, it is necessary to fix all aspects of social and labor relations in such agreements.
"The draft of the Labour Code has been developed under the difficult economic environment and requires active cooperation between all parties for ensuring the sustainable development of our country," said Kairat Aituganov.
As it became known, the Federation of Trade Unions has already begun work on the provisions of the new code. Training seminars, meetings with labor collectives are being held on the basis of territorial associations.
Source: ortcom.kz
November 9 2015, 16:05