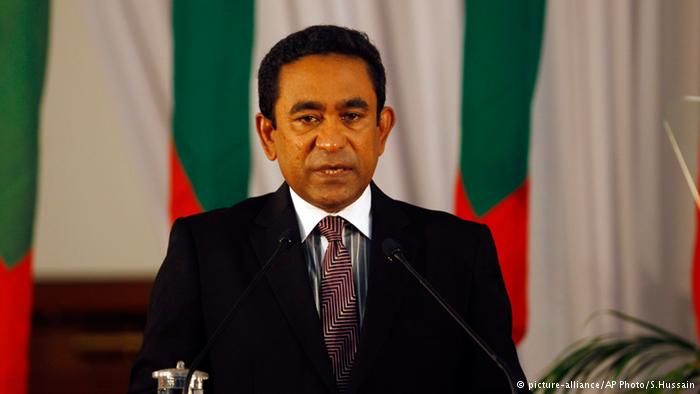 The president of Maldives has called for a 30-day state of emergency after a second alleged assassination attempt since September. The decision comes in front of a planned anti-government demonstration.
The foreign ministry of the Maldives made the announcement to bolster security forces and curtail civil rights via Twitter on Wednesday.
Attorney General Mohamed Anil said the decision was made "to protect the people" in response to "a threat to the public and the nation."
The announcement comes two days after a bomb was defused near President Abdulla Yameen Abdul Gayoom's home in the capital Male - and three days after the government rejected an FBI report on an explosion in September on the president's boat that found no evidence of a bomb causing the blast.
Tensions are high on the Indian Ocean archipelago, known by many mainly for its relaxing beaches and resorts. High-ranking officials have been arrested or removed, and opponents of the president were preparing for a demonstration before the state of emergency was declared.
The bomb defused by the military on Monday was found in a parked vehicle near the president's official residence. It was said to have been a remote controlled improvised explosive device.
On September 28, a speedboat explosion left the president unharmed but injured his wife, aide and bodyguard.
Officials initially believed the incident was caused by a mechanical failure but later launched a murder investigation. The vice president - first in line for succession to the presidency - has been arrestedalong with eight others.
President Yameen had denounced on Tuesday the alleged boat bombing as "an act of greed to attain power."
The US, Saudi Arabia and Australia were called on to investigate the cause of the explosion. An FBI probe found no evidence pointing to a bomb causing the blast, which the Maldives' interior ministry said was an inconclusive result. He noted that Saudi Arabian and Sri Lankan investigators suspected a bomb.
Officials respond after the speedboat explosion
The country of just under 400,000 citizens, mostly Sunni Muslims, has wavered since its transition to democracy in 2008. It's first democratically elected president, Mohamed Nasheed, resigned in 2012 under protests that he and the opposition call a coup.
President Yameen then won a bitterly contested election against Nasheed, who was then sentenced to 13 years in prison for charges of terrorism after a trial widely decried for lacking due diligence.
The president's half-brother, Maumoon Abdul Gayoom, endured a coup as president 27 years ago. He ruled Maldives from 1978 to 2008, when he lost in the country's first democratic election.
Source: dw.com
November 4 2015, 16:34