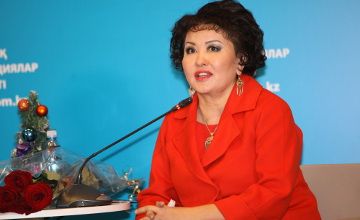 Kazakhstani violinist, the People's Artist of the Republic of Kazakhstan and rector of the Kazakh National University of Arts Aiman Mussakhajayeva suggested holding the International Tchaikovsky Competition in Kazakhstan.

She put forward her proposal at a Wednesday press conference dedicated to Shabyt Festival held in Astana these days.

"This event [competition] will promote our republic, our art. We would be delighted to participate and be on the judging panel of this international contest. The International Tchaikovsky Competition has already been held in Japan, South Korea and Moscow [Russia]. And it would be great to hold it in Kazakhstan," Ms Mussakhajayeva told the press conference.

Attending the press conference was general director of the association of laureates of the International Tchaikovsky Competition Andrei Shcherbak who, in turn, came up with the idea to organize a concert of the winners of Shabyt Festival in Moscow.

The 18th International Creative Youth Festival Shabyt kicked off in Astana on November 3 bringing together 388 young talented performers.
Source: inform.kz
November 4 2015, 12:58