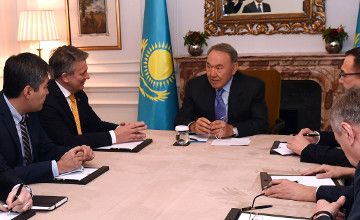 In the course of his official trip to the UK, Head of State Nursultan Nazarbayev has met with Chief Executive Officer of Shell Concern Ben van Beurden in London, Akorda press service informs.

The parties discussed the prospects of further development of cooperation in energy and petro-chemical industries.
"Throughout the period of its operation in Kazakhstan, Shell has implemented a number of large projects and turned into one of the leading investors for Kazakhstan economy," the President said.

In turn, Ben van Beurden noted that cooperation with Kazakhstan was one of priority areas of the Concern's activity.

Ben van Beurden congratulated also N. Nazarbayev on 550th anniversary of the Kazakh Khanate.
Source: inform.kz
November 4 2015, 10:51