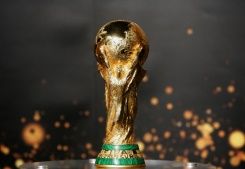 The 2006 Football World Cup trophy is pictured during its presentation to the public in Freiburg, Germany on April 11, 2006.

Police raided offices of the German Football Federation (DFB) on Tuesday over tax evasion allegations, media reported, as a scandal surrounding graft claims over the awarding of the 2006 World Cup widened.
"We are searching for incriminating material that backs up tax evasion suspicions," an investigator told newspaper.
The DFB has been roiled by allegations in news magazine last month that a 6.7-million-euro ($7.4-million) payment to was used to buy votes to secure the hosting of the 2006 World Cup.
Source: AFP
November 3 2015, 15:46