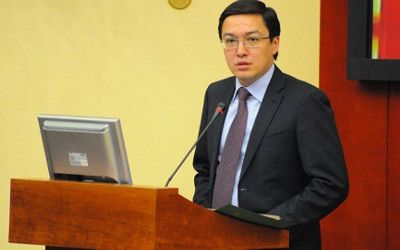 Kazakh President Nursultan Nazarbayev addressed the Senate (upper house) of the Parliament to support Daniyar Akishev's post to the chairman of the National Bank of Kazakhstan.

"The head of state asked the Senate's consent to the appointment of Daniyar Akishev as chairman of National Bank," the press service of the Akorda tweeted.
Akishev was born on May 25, 1976 in Almaty.
He graduated from the Kazakh State Academy of Management.
From 1996 he worked at the National Bank of the Republic of Kazakhstan on different positions.
In August 2007, by the order of the President of Kazakhstan, he was appointed Deputy Chairman of the National Bank.
To date, he served as the acting assistant to the head of the department of social and economic monitoring of the Presidential Administration.
Kairat Kelimbetov has been chairing the National Bank since October 1 of 2013.
Source: akipress.org
November 2 2015, 11:55