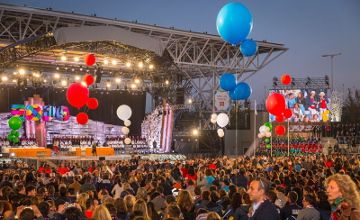 The Expo Milano 2015 figuratively passed the baton at the closing ceremony yesterday to the representatives from Kazakhstan. As is known, Astana is going to host the international exhibition in 2017 whose theme will be "Future Energy."
NC Astana EXPO-2017 CEO Akhmetzhan Yessimov and EXPO-2017 Commissioner, First Vice FM Rapil Zhoshybayev participated in handover ceremony. The Bureau of International Exhibition passed them its flag. EXPO-2017 will be held in Astana during the period from June 10, 2017 through September 10, 2017.
"It is a very serious and responsible step for Kazakhstan. The preparation for EXPO will become a national project for the next two years," Zhoshybayev said and added he was confident in successful organization of the event.

The Commission of the Bureau of International Exhibition noted the best national pavilions in "architecture" and "revelation of the theme" categories. Among the winners are Germany, Kazakhstan (revelation of the theme), France, China (architecture).

Throughout the EXPO 2015 the Kazakh pavilion enjoyed high attendance receiving 5,000 people daily.
On October 23, Kazakhstan's pavilion honored its millionth visitor - 57-year-old Daniele Bergo from Italy.
The theme of the Kazakh pavilion which covered the area of more than 3,000 sq m was "Kazakhstan - Land of Opportunities".
150 volunteers from Kazakhstan served the pavilion.
Kazakhstan has been participating in EXPO since 2005.
Source: inform.kz
November 2 2015, 01:14