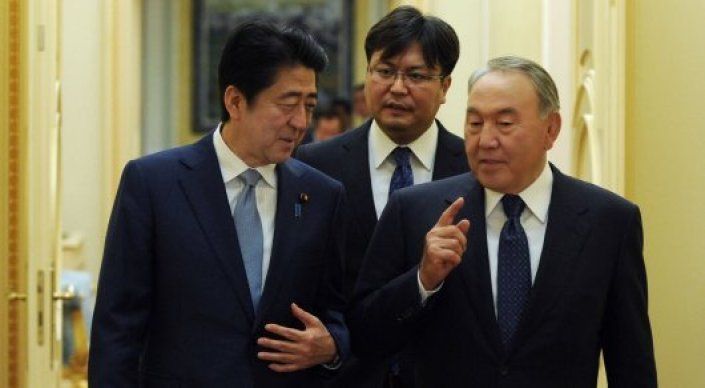 Japanese Prime Minister Shinzo Abe has reiterated his country's readiness to construct a nuclear power plant in Kazakhstan.
"Kazakhstan is the biggest economy in Central Asia, plays a major role in the international arena and is a precious partner of Japan. Today we have exchanged opinion with President Nazarbayev (…) I want to emphasize three major directions for the two nations to work in following the talks. First of all, both Japan's public bodies and private sector will be rendering support to economic reforms in Kazakhstan. Besides, Japan will be assisting construction of a nuclear power plant in Kazakhstan. We will also be working to introduce medical diagnosis systems and will help to train highly skilled staff for manufacturing industries", Shinzo Abe said when voicing the joint statement for the press at Akorda Astana-based Presidential Residence.
October 23 Tengrinews.kz reported, citing the country's Vice Minister of Energy Bakhytzhan Dzhaksaliyev, that Kazakhstan was to decide within the following 2-3 years on the location and strategic partner for its first nuclear power station.
January 23,2015 Tengrinews.kz reported that Kazakhstan had started talks with Toshiba, owner of Westinghouse, to construct its first nuclear power plant. The sides were to sign an agreement on supplying a $3.7 billion reactor capable of 1 gigawatt, according to Russia's Kommersant daily.
Early 2014 the country's President Nursultan Nazarbayev commissioned the Government to decide before the end of the Q1 2014 on the location, sources of investments and timing of constructing a nuclear power plant in Kazakhstan.
In his Address to the Nation at the start of 2014, President Nursultan Nazarbayev elaborated why Kazakhstan needs to construct a nuclear power plant.
He emphasized that the future lies with nuclear power. "To use natural gas is a waste of resources. Instead, the gas could be used to produce high value added products. Kazakhstan is a global supplier of uranium (…) we do have all the capabilities [to develop the nuclear power industry]. Nuclear power is a clean energy we should take advantage of", Nazarbayev said at the time.
"There may be more than one nuclear power plants (…) Their construction is not going to be cheap. Despite potential hazards, more than half of power generated in West Europe comes from nuclear power plants; Japan is not halting its nuclear power industry, either".
According to Bakhytzhan Dzhaksaliyev, «works are under way to find a strategic partner. There is no rush (…) In the nearest 2-3 years we will announce the location and strategic partners", he said, reminding that Kurchatov town in the Eastern Kazakhstan and South-West of the Balkhash lake have been defined as possible locations.
"The actual need for a nuclear power plant will be felt around 2025 given the current power generation and consumption figures", he elaborated.
Source: tengrinews
October 27 2015, 15:57