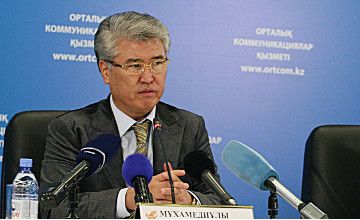 Kazakhstan, Italy and China will make a documentary film about famous traveler of the 13th century Marco Polo, who told the western world about the life of nomads for the first time, Minister of Culture and Sport of Kazakhstan Arystanbek Mukhamediuly informed at the CIS press conference.

"This is a very important project, because Marco Polo is an author of a great book titled "On diversity of the world". This is a story about our land and traditions. We have to recreate our history from the first hand based on the stories of people who described it first. Moreover, Marco Polo described our traditions very positively compared to the other countries," A. Mukhamediuly said answering journalists' questions.
According to him, there is an agreement that directors of three countries will be making the movie. "We need to establish a tripartite cooperation: Italy-Kazakhstan-China. To the point, Marco Polo lived and worked in China for a long time. There are already several scenarios that meet the requirements. I think this movie is going to be the first documentary about the travels of Marco Polo," the minister added.
Source: inform.kz
October 26 2015, 18:45