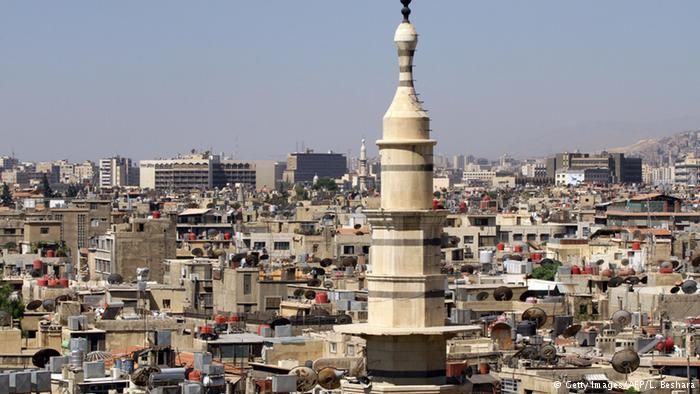 Two rockets have struck the Russian embassy in Damascus. Meanwhile, al-Qaeda affiliate al-Nusra Front has called on jihadists in the Caucasus to attack Russian civilians and soldiers.
Reporters at the site said two shells had been fired at Russia's embassy in the Syrian capital on Tuesday, creating panic among the several hundred people who had gathered for a pro-Russia demonstration.
Russian news agency Interfax confirmed the attack, saying "no one was killed or wounded."
Russia Television tweeted a picture of the shelling.
'Act of terror'
According to a photographer from the AFP news agency, about 300 demonstrators were present at the site.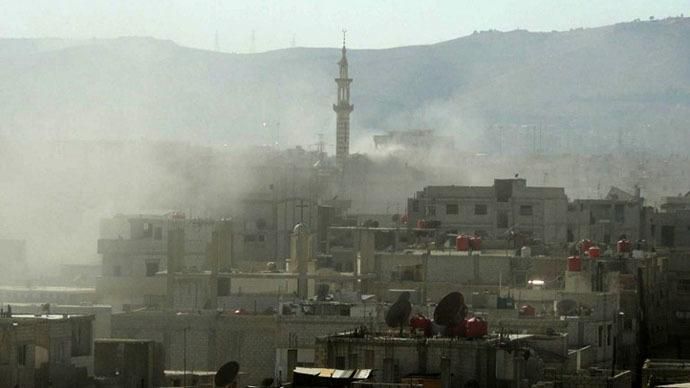 "This is an obvious act of terrorism, probably aimed at intimidating supporters of the fight against terrorism," the RIA news agency quoted Russian Foreign Minister Sergei Lavrov as saying.
He also said Russia was supporting UN Special Envoy Staffan de Mistura's efforts to ensure a political settlement in Syria, but was disappointed at the US' reluctance to coordinate efforts of all of the parties involved in the country.
Nusra Front calls for attacks
Meanwhile, Nusra Front, an affiliate of al Qaeda in Syria, released a statement calling jihadists in the Caucasus to attack Russian civilians and soldiers.
"If the Russian army kills the people of Syria, then kill their people. And, if they kill our soldiers, then kill their soldiers. An eye for an eye," Nusra Front leader Abu Mohamed al-Golani said in the statement.
Tuesday's rockets come two weeks after Russia began its airstrikes and ground attacks targeting the "Islamic State" in Syria . However, there are reports that the offensive is being waged in areas controlled by forces opposing Syrian President Bashar al-Assad, a close ally of Russian President Vladimir Putin.
Source: dw.com
October 13 2015, 16:53