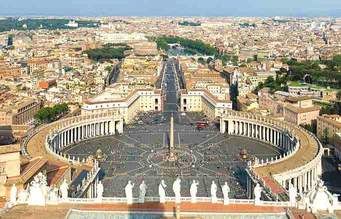 In terms of the celebration of the 20th Anniversary of Kazakhstan People's Assembly (APK), the Vatican hosted a scientific-practical conference and exhibition "Interethnic and interreligious harmony in the modern world", organized by the Embassy of Kazakhstan, together with the Pontifical Council for Interreligious Dialogue, the Foreign Ministry informed.
The event was attended by representatives of academia, the media and the heads of the diplomatic corps accredited to the Vatican State.
The Ambassador of Kazakhstan to the Vatican Mukhtar Tleuberdi greeted the participants at the conference. He noted the high level of relations between Kazakhstan and the Holy See.
The deputy of the Majilis of the Parliament of the Republic of Kazakhstan Zhumatai Aliyev addressed his report at the meeting. He gave detailed information on the objectives, tasks and functions of the APK. Covering the history of the Assembly, the speaker highlighted the role of the Leader of the Nation - Nursultan Nazarbayev in inter-ethnic harmony.
Then, the Secretary of the Pontifical Council for Interreligious Dialogue, Father Miguel Ángel Ayuso Guixot addressed his speech. He praised the inter-religious harmony and social stability in Kazakhstan. The Holy Father also said that the Vatican supported the initiative of the President of Kazakhstan and participates in the work of the Congress of Leaders of World and Traditional Religions.
"Following the conference, the map copies of Central Asia of XVII and XVIII centuries, kept in the Vatican archives. For his part, M. Tleuberdi expressed deep gratitude for support in the development of historical science of Kazakhstan", the statement reads.
Source: strategy2050.kz.
October 13 2015, 09:52