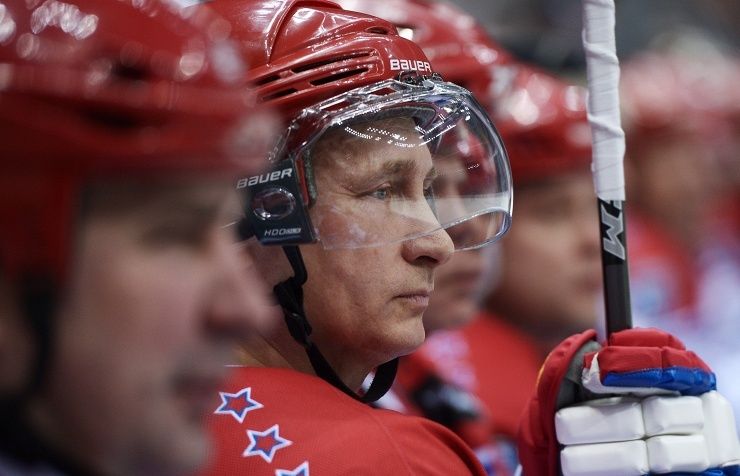 Over the years of his presidency, Putin has never taken a break on his birthday, usually celebrating the date at work.
Russian President Vladimir Putin will take part in an ice hockey match on Wednesday to celebrate his 63rd birthday this year, the Kremlin said.
Outlining Putin's plans for the day, Kremlin spokesman Dmitry Peskov told journalists on Tuesday: "Putin will traditionally play ice hockey with his old friends - famous ice hockey veterans and players of the Night Hockey League which starts its season tomorrow."
The Russian leader is an avid ice hockey player. He was last seen on ice on September 1 when he took part in a game against student players from the Sirius academy for gifted children at the Shaiba arena in the Black Sea resort of Sochi, which was one of the hockey venues at the 2014 Olympics.
Putin, who has relatively not long ago mastered the sport, has repeatedly participated in friendly ice hockey matches. In May, he showed off his ice hockey skills during a match between Russian amateur players and ice hockey stars at a festival for Russia's amateur hockey organised by the Night Hockey League in the Bolshoy arena in Sochi.
The president made one of his first appearances on an ice hockey rink in 2012 within a similar Night Hockey League tournament despite the fact that the game took place just a few hours after his inauguration.
In addition to participating in tournaments with hockey players, Putin has several times invited to ice rinks his fellow politicians, including the presidents of Finland and Belarus.
Over the years of his presidency, Putin has never taken a break on his birthday, usually celebrating the date at work. Only last year, the Russian president left Moscow for a day off at some place in the dense taiga forest in Siberia's heartland. On the way to another conference, held in Siberia, Putin decided "to get away from it all" for a while and spend the day some 300-400 kilometres away from the nearest locality.
Speaking about Putin's birthday this year, Peskov did not specify whether the president had any other events planned except the ice hockey match. Even if the game turns out to be his only public appearance on Wednesday, Putin will hardly be able to avoid contacts with colleagues wishing to address him with birthday greetings.
Russian Prime Minister Dmitry Medvedev will also offer his congratulations to Putin, Medvedev's spokeswoman Natalya Timakova told TASS. "The prime minister will congratulate the president on his birthday in a phone call and also personally at the earliest opportunity," she said.
Source: tass.ru
October 7 2015, 10:05