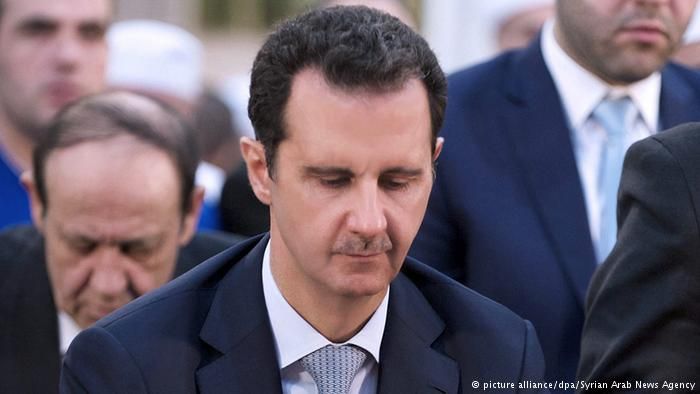 Using a dossier of photos allegedly taken during the first two years of the ongoing Syrian war, authorities in France have said they will investigate Syrian President Bashar al-Assad for crimes against humanity.
The Paris prosecutor's office announced on Wednesday that it had opened an investigation this month into Syrian President Bashar al-Assad for alleged crimes against humanity, launching a case that highlights the divisions between the world's major military powers over relations with the autocrat.
Authorities officially opened the investigation, which will also examine claims of torture and kidnapping by Assad's forces, "on the basis of indications received from the Foreign Ministry" on September 10, an official at the prosecutor's office told news agencies.
"In the face of these crimes that attack the human conscience, this bureaucracy of horror, in the face of the negation of the values of humanity, it is our responsibility to act against the impunity of these assassins," French Foreign Minister Laurent Fabius said in a statement.
It remains unclear whether French investigators plan to travel to Syria in the midst of its civil war, whom they might eventually charge or how they plan to bring the accused to trial.
'Assad's Secret Killings'
Using "Assad's Secret Killings," a dossier of 55,000 photos taken by "Caesar" - a photographer in Syria's military who fled in 2013 - investigators will focus on atrocities allegedly committed in the war's first two years. Photographs show emaciated bodies, people with wounds on their backs and stomachs and at least one picture of hundreds of corpses lying in a shed surrounded by plastic bags used for burials.
At the UN Generally Assembly, Russian President Vladimir Putin tried to rally action against the "Islamic State " (IS) in Syria. On Wednesday, Putin received permission from Russia's parliament to deploy troops abroad - potentially to Syria.
France joined US-led airstrikes against IS targets in Syria this week, but officials remain staunchly opposed to Assad, because he cracked down violently on peaceful protests in 2011, which is seen by many as plunging the country into its now-four-year civil war, and faces widespread opposition at home. Saudi Arabia has threatened to remove Assad militarily if he does not relinquish power.
The Syrian war has left some 250,000 people dead, and world leaders have accused Assad's military of killing far more Syrians than IS has by dropping barrel bombs in civilian areas - charges the government has denied, despite ample evidence to the contrary. The brutal conflict has also displaced 11 million people, thousands of whom have fled for Europe.
Source: dw.com
September 30 2015, 17:28