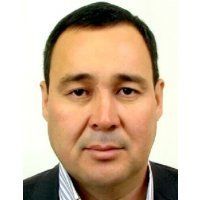 Aibat SuleimenovWebsite of Financial Police in the "Wanted" section has been updated with additional information about more persons involved in the corruption deals connected with embezzlement of budget funds in Atyrau Oblast. They all are charged with a large scale appropriation and misapplication of entrusted alien property under Article 176, part 3, item "b" of RoK Criminal Code.
Finally, the photos and full information is posted about 6 persons from the wanted list charged with criminal cases over embezzlement of state budget funds (in its press release dd. Nov 16, 2012, the Financial Police posted only the last names. The first names and positions were not mentioned.)
Now it is clear that the person under the name of Suleimenov is, for sure, Aibat Suleimenov, the owner of Snaboil LLP, whose colleagues from the oblast maslikhat (local government) have reluctantly deprived of his deputy mandate in absentia at the initiative of the new Governor. Snaboil LLP is one of two companies, that was uncontrollably given the government orders for construction of social facilities both in Atyrau and in districts during the last years. It is interesting to note that the criminal case against Suleimenov has been initiated on August 21, 2012 with the pre-trial restriction of "arrest", but he was put on wanted list only on November 19. We already published the story how he laughed over all this comedy, easily left for Uralsk where his family waited for him at the airport, as well as the charter flight (see "Price of Freedom:$150mln").
There is another name in the list - Artyom Danevich, deputy director of Center Stroy Ltd. (the person under the name D in the above mentioned article), who for many years was topping the pork barrel, but whose "associates" now remain in the shadow. Among others on the wanted list are Nurlan Dzhoulmagambetov, the director of AtyrauGrandStroy, Gulmira Аzbergenova, the accountant of BNB Construction, Murat Dzheldybaev, Galina Vakker, Erbolat Izbasar - they are either the heads or the accountants of construction companies that earlier were made public in relation to criminal cases initiated against them.
By Laura Suleimenova
Photo is taken from RoK FinPol website
January 9 2013, 10:53