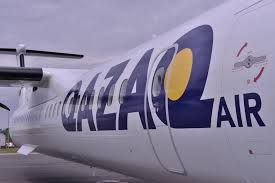 Kazakhstan-based regional carrier Qazaq Air launched its first domestic services on Aug. 28, according to several local media reports. Qazaq Air is a subsidiary of Samruk Kazyna, Kazakhstan's Sovereign Wealth Fund.
Qazaq Air offers a daily evening service from Almaty to Astana, as well as several weekly services from Almaty to Pavlodar and Shymkent, according to its website.
It plans to operate 12 routes, many of which are not currently served by other carriers, according to a statement by Bombardier.
Qazaq Air's fleet reportedly consists of three brand-new Bombardier Dash 8 Q400 NextGen aircraft. The company was established in February 2014 as Air Kazakhstan and registered as Qazaq Air in April 2015.
ATW previously reported these aircraft are leased from Falcon Aviation Services of Abu Dhabi.
Since Air Astana retired its Fokker 50 turboprop fleet, many domestic airports cannot serve Air Astana's all-jet fleet.
Air Astana had been involved in discussions to launch a regional airline in Kazakhstan. Samruk-Kazyna owns also 51% in Air Astana.
Text: atwonline.com Picture: tengrinews.kz
September 1 2015, 15:45