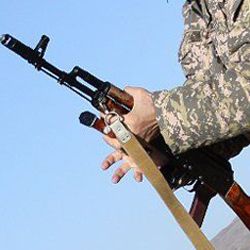 5 citizens of Uzbekistan received wounds in an incident at the border with Kyrgyzstan, reports Border Agency of Uzbekistan in 12.uz -- an independent Uzbek portal.

All the five are residents of the village of Hushar, situated in the Uzbek enclave of Soh within Kyrgyzstan.
Their condition is now evaluated as serious.
According to mass media, in the weekend a group of villagers attacked Kyrgyz border guards.
The cause for the conflict was the Kyrgyz border post Charbak, which had been opened in mid-December near the enclaved territory.
The locals dismounted power line poles and assaulted Kyrgyz soldiers wounding some of them.
No official report was received from border service.
Besides, a group of people from neighboring Kyrgyz settlements was held in captivity in the enclaved village.
After talks on Monday all of them were released.

State Border Agency of Uzbekistan insists that Kyrgyz border guards were carrying on works in Uzbek lands without prior alignment with the Uzbek side, what lead to the conflict between residents of the Uzbek village and Kyrgyz soldiers.
The agency holds Kyrgyz border guards accountable for wounding Uzbek citizens.
"Law enforcement bodies of Uzbekistan have launched a criminal proceeding and are investigating the case" the agency statement reads.
January 8 2013, 09:48