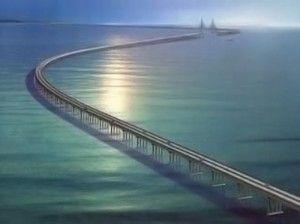 Director of the department in the Ministry of Transport Sadraddin Mammadov informed the AFP agency that the feasibility study is already finished. According to the guidelines the bridge should cost 2 billion dollars.

The cost includes not only the construction of the structure but also the restoration of the Zig and Lokbatan towns which are going to be linked by the bridge. Tourists will have an opportunity to stop on the bridge in designated places and drive down in special elevators to the "water taxis" which would take them to the islands of the Caspian Sea.
Currently the project is studied by the council of ministers. If the project is passed the international consortium appointed to the construction of the bridge is going to prepare a detailed project and after the ratification it will set about to work. After completion of the works the consortium is going to administer the bridge. There is going to be toll for driving the bridge. After the bridge will pay for itself the state administration will take over the management of the structure.
The Ministry of Transport predicts that the travel from Zig to Lokbatan by new bridge will take 6 minutes.
Source: euroinfrastructure.eu
August 17 2015, 11:20