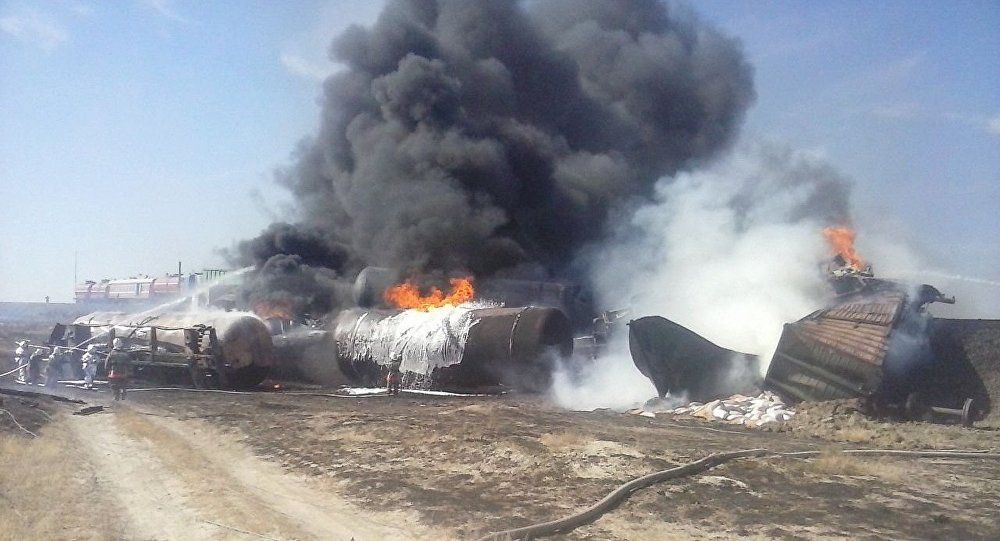 Seven railway cistern car with diesel fuel and four cars with bulk carrier caught fire as the result of derailment of freight train in Aktobe Oblast, reported emergency situations committee under the Ministry of Internal Affairs of Kazakhstan.
Accident happened on Thursday 4 kilometers away from Emba city. Information about derailment of cars was received at 15:22 hrs (Astana time). According to information provided by "Kazakhstan temir zholy", 20 cars we re derailed, 16 of them were loaded with gasoline.
The message reads that the first fire-fighting crews in cross-country conditions arrived immediately to a spot in 17 minutes.
"By the time the fire fighters arrived, 7 railway cistern cars with diesel fuel and 4 cars with bulk carrier (mineral wool and bags with peas) were already in flame.
During rescue operations 43 freight cars were uncoupled and evacuated to a safe area. Burning cars have been cooled. Three hours later the fire was localized.
"There were no victims or fatalities. Fire extinguishing and elimination of consequences of an emergency situation is ongoing" – informs emergency situations committee.
Source: azh.kz Translated by Zeena Urynbassarova
July 31 2015, 12:45