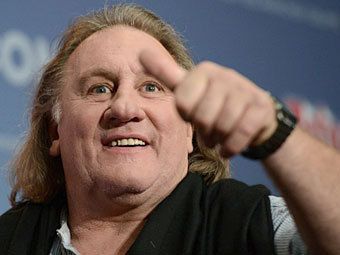 Russian President Vladimir Putin signed a decree granting Russian citizenship to the famous French actor Gerard Depardieu [on photo], according to Kremlin's website.
The status was provided under Article 89 of Russia's Constitution which reads "president decides issues of Russian citizenship and provision of politicial asylum."

In early December 2012, Depardieu moved to Belgium from France over president Francois Hollande's intention to introduce luxury tax of 75% in the country.
French premier Jean Marc Ayrault named the actor's decision 'a pathetic action', what Depardieu accepted as an insult and threatened to deny French citizenship.
On December 18, Le Monde wrote that Depardieu could receive Russian citizenship citing his words "Putin has sent me a passport."
In the administration of Russian president they commented this was a joke.
"I have never heard anything of that kind" said Dmitri Peskov, Putin's media secretary.
On the following day, Ramzan Kadyrov, the president of Chechnya, expressed willingness to accept Depardieu in the North Caucasian republic.
"If the country management makes positive decision and grants him Russian citizenship, we will be happy to create conditions worthy of this great figure of culture in our republic" Chechnya's head said adding that Depardieu is "a man with a capital letter."

On December 20, during an extended press conference Putin claimed he was ready to shortly provide Depardieu with Russian citizenship.
"If Gerard indeed wants to have either a Russian residence permit or a passport, the issue is over and decision is positive" Russian president stated.

WKT citing azh.kz


January 3 2013, 16:15