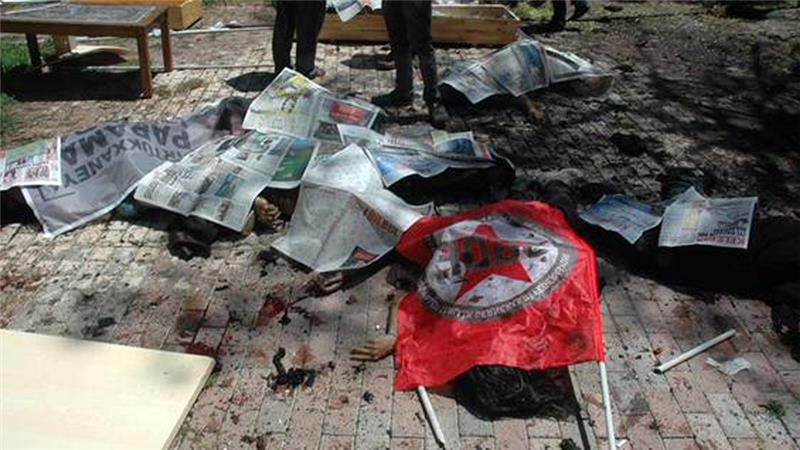 At least 27 people have been killed and 100 wounded in an explosion at a cultural centre in the southeastern town of Suruc near Turkey's border with Syria, according to the Turkish interior ministry.
Officials said three government ministers were on their way to the scene of Monday's blast, which happened during a press conference.
A representative of a Kurdish party told Al Jazeera that the body of a suicide bomber had been found among the dead.
Footage posted by the Dogan News Agency showed members of the Federation of Socialist Youth Associations (SGDF) gathered under a banner and chanting slogans when a blast tears through the group.
Images posted on Twitter showed about 10 people laying motionless and several others who appeared to be wounded after the blast.
Witnesses said those targeted were volunteers coming from Istanbul and heading to the Syrian city of Kobane for relief work.
More than 20,000 Syrian refugees are housed in camps around Suruc, a mainly Kurdish town.
Kobane blast
The blast in Suruc came as another explosion went off in the Syrian town of Kobane, around 10km away, with conflicting accounts given as to the cause.
The UK-based Syrian Observatory for Human Rights, which monitors the war in Syria, said it was caused by a car bomb targeting a checkpoint operated by the Kurdish YPG militia that controls the town.
The YPG spokesman, however, said there had been "explosions" in Kobane as the result of ordnance that had gone off during an operation to clear undetonated explosives left by the Islamic State of Iraq and the Levant (ISIL) group.
ISIL forces had surrounded Kobane until March this year, when they were repelled by Kurdish forces backed by the Free Syrian Army and US air cover.
Source: al-jazeera On photo: Images shared on social media showed about 10 bodies scattered outside a building.
July 20 2015, 18:57