By Murat Sultangaliev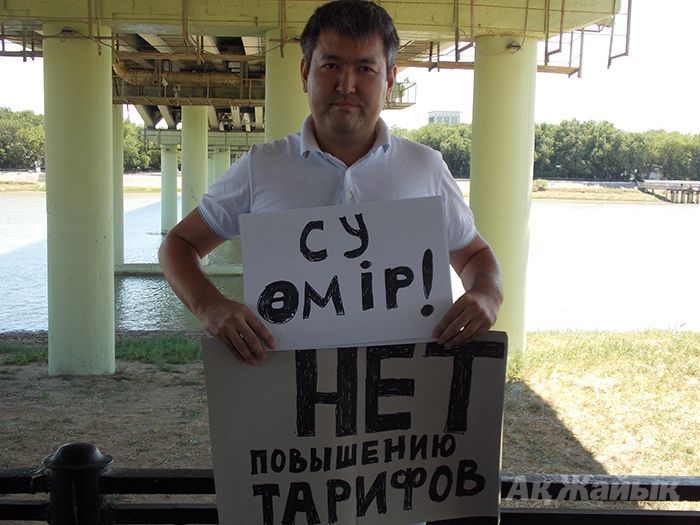 On July 12, on the river embankment under the central bridge between regional and city government buildings one-person picket was organized by Talgat Ayan, the resident of Atyrau. Talgat organized this picket in protest of future increase of tariffs for water that the government promised to launch as of August 1 this year (see "Water bills will jump 50% as of August 1").
He was holding a poster with "Water is life. No to tariff increase!" words written on it.
- I came to this picket because I am against this increase, - said the picketer. - I consider this an antinational decision. After all, there is a crisis now, in Atyrau many projects are closing, people are losing jobs. In such situation the decision to raise tariffs for water is wrong in its essence. I call DAREM (antimonopoly committee), local authorities to cancel it. I want to declare through mass media that from today we will start collecting the signatures of the residents of Atyrau who are against this increase of tariff for water. We will try to collect as many signatures as possible. And if our requirement is not fulfilled, we will appeal to court.
About ten onlookers took the picture of the picketer on their mobile phones. According to my observations, there were also "plain-clothes cops". Talgat's one-person picket lasted about 20 minutes, then he folded up his posters and left.
Photo taken by the author
July 13 2015, 10:00