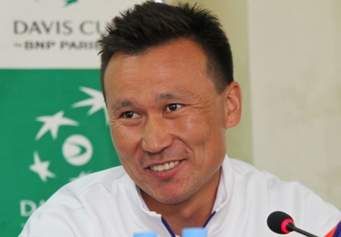 Tanking allegations against Nick Kyrgios may have consumed the tennis media spotlight in recent days, but Kazakhstan's captain says the on-court controversy will not affect the upcoming Davis Cup clash.
"There is a saying back home: you have to look at the grass in your own backyard," Dias Doskarayev said.
"So we don't like to judge or comment about players or other teams.
"Kyrgios is a great player, he's ready to play Davis Cup, that's all that matters."
The Canberra-born Kyrgios, who is of Greek and Malaysian heritage, made no effort to return serve in the third game of the second set of his four-set loss to 21st seed Richard Gasquet on Monday night (AEST).
The following morning, Australian swimming great Dawn Fraser told the Nine Network's Today Show she found Kyrgios' behaviour "absolutely disgusting".
"I just am so shocked to think that he went out there to play and he tanked, he did all that tanking, that's terrible," she said in the interview.
She suggested Kyrgios "go back to where [his] parents came from" and then later "unreservedly" apologised for any comments "which may have caused offense to my fellow Australians, including Nick and his family".
Kyrgios said he had considered quitting tennis following the criticism of his performance.
Australians may have advantage on grass: Kazakhstan
The Kazakhstan team is headed by their top ranking singles player, Mikhail Kukushkin, who has come to Australia fresh from his first round Wimbledon loss to Andy Murray.
GIF: Kazakhstan's second highest ranked male player Aleksandr Nedovyesov
Their second highest player in the squad is Aleksandr Nedovyesov, ranked 123 in international men's singles.
The two will likely face Australia's Kyrgios, ranked 29, and Sam Groth, ranked 69, in the Davis Cup singles matches, although the draw will not be announced until July 16.
"If we meet each other it'll be a tough game," Kukushkin said.
"[Kyrgios] has a huge serve, good forehand, good baseline.
"If we play [Groth] it's going to be tough, I will need to focus on my return a lot because he has a huge serve."
The Australian squad is considered the favourites, with higher rankings among the players, a home crowd and a grass surface.
But the Kazakhstan team has a good record in the Davis Cup, making the quarter finals for the past six tournaments. Australia has not made it that far since 2006.
"I know the Australians grow up playing on grass, so they might have a slight advantage," Doskarayev said.
"But to be in Davis Cup [with] all the emotions and where you play for the country, it doesn't matter what the ranking is.
"It's Davis Cup, anything may happen."
Source: abc.net.au On photo: Dias Doskarayev
July 9 2015, 15:18