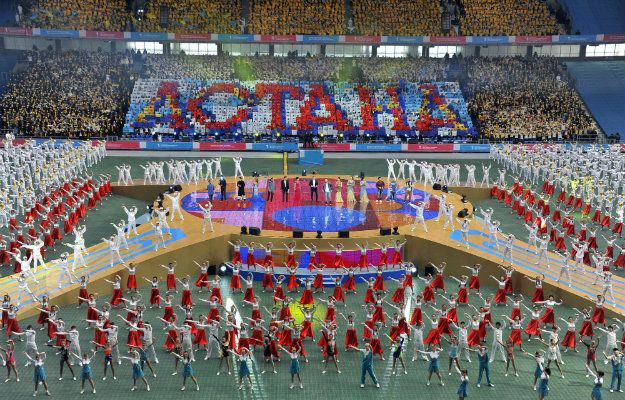 Astana Day celebrations started with a traditional flag raising ceremony held in Astana and attended by the country's president. The ceremony took place on the main flagpole of the Kazakh capital. The country's largest 450-square meter flag was raised to an altitude of 111 meters above ground.The national flag is a symbol of the success and national unity.
Nursultan NAZARBAYEV, PRESIDENT OF KAZAKHSTAN:
- It is a sign of unity of the people, a sign of solidarity. Soon, this flag will adorn the EXPO-2017. I believe that the flag will be raised many times to mark the victory of the country in the upcoming Olympics and other sport events. The traditional flag raising ceremony opens Astana Day celebrations. Astana is a result of common effort, inspiration for our citizens. Many people moved here from different parts of the country to build the capital, which now is the pride of the entire Kazakhstan.
The Head of the State, who is also a Supreme Commander-in-chief, presented epaulettes to the outstanding graduates of the Kazakh military schools. The President reminded the young officers that being a military is a vocation and only then a profession. The total of 69 military graduates has been honored to receive epaulets form the country's presidents in the past few years. They are signalers, border guards, rescue workers, national guards and ground troops, kz-tv.kz reported.
Astana flourished on the eve of its 17th birthday. A beautiful bright flower decoration, colorful installations was everywhere, bnews.kz reports.
July 7 2015, 11:09