By Saule Tasboulatova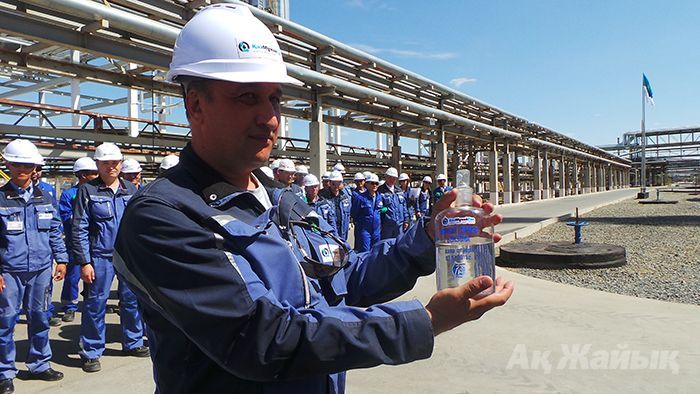 On July 3 the first batch of commercial benzol has been recovered at the Complex facility for production of aromatic hydrocarbons (KPA) at Atyrau refinery.

- It is our present to the birthday of Astana, - said
Kairat Urazbaev, Atyrau refinery CEO
at the official start-up ceremony.
- In order to produce higher standards of K3 and K4 we need to recover from automobile gasolines the most harmful, from ecological point of view, component - benzol. And today the first batch of benzol has been recovered - the product that is great demand in the world market. It is also a raw material for future cluster of petrochemical complex of Kazakhstan. Atyrau refinery was the first plant that processed crude oil of Kazakhstan, and today it became the first-born of petrochemistry.
Director of Kazakhstan branch of "Sinopec Engineering" Zheng Foutsyang:
- We passed a hard way for achievement of our goals. But we did it. At this unit we, for the first time in Kazakhstan, can produce gasoline according to K3 standard, benzol, liquefied gas, etc. We guarantee that at the end of August we will start-up the unit for production of paraxylol and at the end of next year - Advanced oil processing complex unit.
The new complex facility created 270 workplaces for qualified specialists.
- It is a very big complex facility, there are 5 on-plot and over 20 off-plot facilities. Out of 270 people there are partly our plant specialists and another part are those who passed through theoretical and practical training at the plants in China and Russia.
To recall, the contract for construction of KPA between Atyrau Refinery and Chinese company "Sinopec Engineering" was signed on October 29, 2009. The cost of the project is 1 billion 40 million dollars. For ensuring the financing - the general credit agreement was signed with the Development Bank of Kazakhstan.
KPA facility may produce high-octane gasoline by extraction from benzene oil products, and also to receive benzene and a paraxylol – raw materials for future petrochemical complex on Karabatana. When the facility operates on its full capacity it will produce 133 thousand tons of benzol and 496 thousand tons of paraxylol per year.

July 7 2015, 10:25